What Is The Difference Between Sprinter & Metris Vans?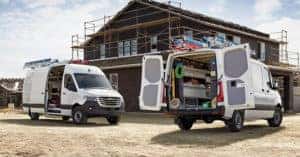 Models of Mercedes-Benz Vans include the more compact Metris and the larger Sprinter. These two models are similar in some areas, such as their reputation for quality and reliability and flexible layout options for cargo or passengers.
However, customers need to understand the differences between these two vans to decide which one better fits their needs or the requirements of their business. The vans are different in terms of cargo and passenger capacities, engine options, safety features, and sizes.
To find out more about whether a Sprinter or Metris van would be suitable for you, contact Ray Catena Mercedes-Benz of Edison today or visit us in person to test your options out. If you run a company with particular transportation needs, our custom upfitted Mercedes vans may be your best choice.
View Our Commercial Van Inventory
---
What Are the Key Differences in Size, Capacity, and Configurations Between Sprinter and Metris Vans?
Whether you use your Sprinter or Metris van for business, transport, cargo, or camping, you will want the correct configuration and enough size to handle all your tasks. You should also ensure the vehicle has the capacity to handle any situation you might encounter during your workday or journey.
Sprinter vans have larger overall dimensions. The 144-inch-wheelbase models are 234 inches long. 177-inch-wheelbase models are 274 inches long, while the extended version stretches the length to 290 inches.
See Also: Sprinter Van Dimensions
Standard Sprinter van models are 96 inches tall, and high-roof versions move this figure to 107 inches, with passenger versions standing at 113 to 114 inches. Sprinters are 92 inches wide, measured from mirror to mirror.
The measurements of the Metris are slightly smaller, making it a better option for tight spaces, urban streets, or parking in small garages. Standard models are 202 inches long, with a 211-inch-long cargo version also available.
Metris models are 74.4 inches tall (76 inches with optional roof rails) and 88 inches wide, from mirror to mirror.
See Also: Metris Van Dimensions
The Metris passenger model can comfortably accommodate eight passengers. The Sprinter passenger model increases the seating capacity to 15. Meanwhile, the Sprinter crew van holds five passengers, and cargo versions of both Sprinter and Metris vans can accommodate two people.
The Sprinter van comes in passenger, cargo, crew, and cab chassis varieties, and the Metris in cargo and passenger configurations.
What Are the Performance and Powertrain Differences Between Sprinter and Metris Vans?
Performance specifications are another essential consideration. Your van needs to handle any situation you encounter on the road or during your workday.
Sprinter van models come in several engine versions. The standard turbocharged 2.0L 4-cylinder gasoline engine delivers 258 lb-ft of torque and 188 horsepower. This power source is paired with a 9-speed shiftable automatic transmission. Also available are 4-cylinder standard diesel engines (170 hp and 295 lb-ft of torque), while all-wheel-drive (AWD) models come with high-output diesel engines delivering 211 hp and 332 lb-ft of torque.
The standard engine for the Metris van is a 4-cylinder gas engine with 208 hp and 258 lb-ft of torque.
How do these engine sizes and outputs translate to job performance?
Metris vans can pull up to 5,000 lbs. The cargo version has a maximum payload capacity of 2,205 lbs, and the passenger van can hold 1,720 lbs.
The capacities of Sprinter cargo vans vary depending on size and engine type. The vans can tow up to 7,500 lbs (with a high-output diesel engine) and carry as much as 6,812 lbs in the cabin.
According to the EPA, Metris cargo vans have a fuel efficiency rating of 19 miles per gallon (MPG) in the city and 23 to 25 on the highway. Passenger vans get 18/22 MPG (city/highway).
The EPA does not maintain fuel economy data for commercial vans like the Sprinter, but Car and Driver has estimated a 15 MPG economy.
Both vans offer rear-wheel drive (RWD), with AWD available on Sprinters.
What Are the Pricing, Features, and Target Markets for Sprinter and Metris Vans?
The 2023 manufacturer's suggested retail price (MSRP) starts at $39,600 for Metris cargo vans and $43,600 for passenger vans. The Sprinter's 2023 MSRPs start at $43,500 for cargo vans, $46,700 for crew modes, $48,700 for the passenger version, and $47,300 for the customizable cab chassis.
Longer versions of both vans add to the price tag, as do high-output engines. The 211-inch Metris cargo starts at $40,300, while the high-roof and extended Sprinter models start at $50,790 and $55,540, respectively. Cargo models with the Sprinter's high-output diesel start at $49,650, while the crew version has an MSRP of $51,850 for the high-torque engine.
Both Sprinter and Metris models have 15,000-mile service intervals. AWD is available for Sprinters.
Sprinter models have active brake assist and emergency call as standard safety features. Other options, such as blind-spot monitoring and active brake assist are optional. Metris vans have more standard safety features, including crosswind assist, Attention assist, rearview camera, and an electronic load stabilization system.
Both Sprinter and Metris vans are primarily commercial vehicles, though the Metris passenger model can also serve as a reliable transporter for large families.
Sprinter passenger vans are mainly designed for commercial transportation, such as shuttle service, or to transport employees or groups. Cargo models of both vans are ideal for deliveries or moving materials and equipment to job sites. Because of the upfitting options Ray Catena offers, these vans can also serve as mobile workshops for service providers, construction workers, or maintenance personnel. Upfitted features can include power sources, shelving, dividers, and others.
Sprinter Cab Chassis models allow you to customize the cargo or equipment areas to suit your needs, while the Sprinter crew vans provide space for both passengers and equipment.
The deciding factor for most Mercedes-Benz van buyers will be the size. Metris models provide better fuel economy and more standard features. However, they may lack the capacity for some delivery, construction, or service professionals, who would be better served by a larger, more powerful Sprinter van.
Explore Sprinter and Metris Vans at Ray Catena Mercedes-Benz of Edison
Ray Catena Edison offers a versatile range of both Sprinter and Metris vans. Our knowledgeable sales staff will listen to your requirements and point you toward the options that fit your needs. Contact us online to learn more about these reliable, powerful Mercedes-Benz vans today.
Learn More About Mercedes-Benz Vans: