Metris Van Dimensions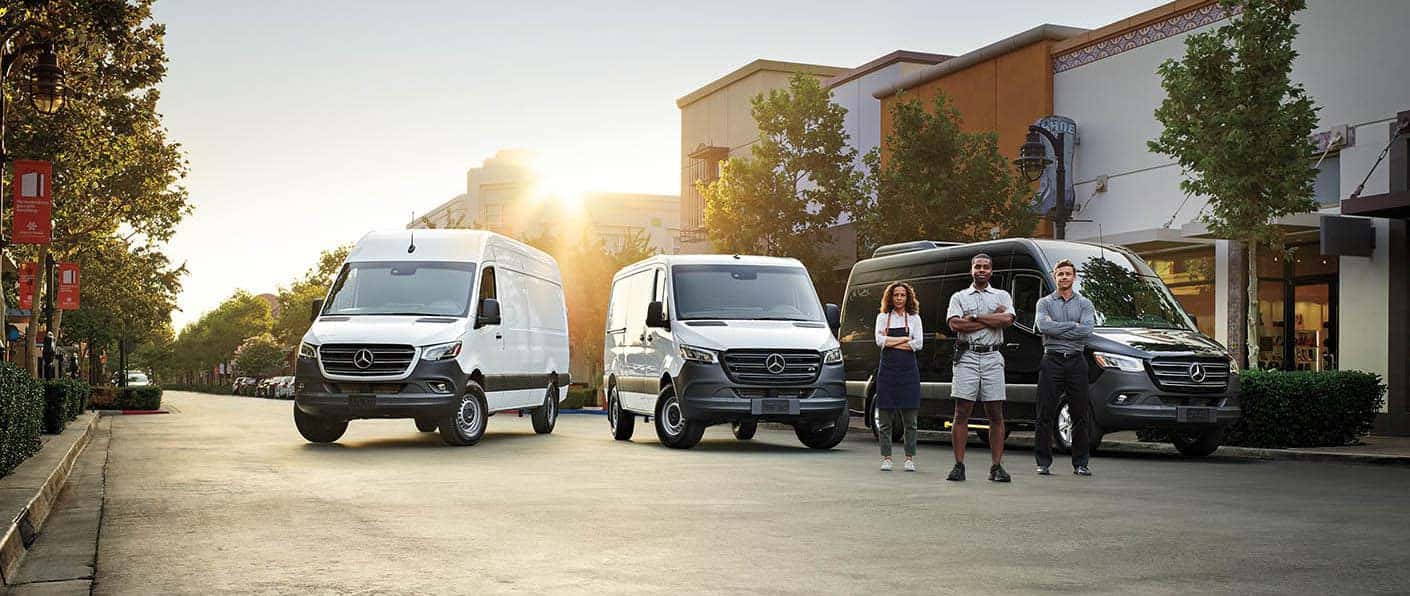 Selecting a commercial or business van is an important decision. You want a van that meets your physical needs while representing a professional image. When you who up in a Mercedes-Benz Metris, it makes the statement that professionals are arriving to take care of business.
Since Mercedes-Benz offers both the Sprinter and Metris van models, customers are often curious as to the difference between the two vehicles. In short, the Sprinter is a bigger van, has a more powerful engine, and offers more body options. But when a sleeker, smaller vehicle is what your company needs, then the Mercedes-Benz Metris is the perfect answer.
If you are considering a decision to acquire a commercial or business van, it makes the best financial sense to consult the tri-state area's Mercedes-Benz service and sales experts.
Below, we've provided Metris van dimensions and other information you need to make an informed decision.
What are the exterior dimensions of Mercedes-Benz Metris Vans?
Metris vans are available in two models: Cargo and Passenger. Cargo vans are offered in standard- and long-wheelbase editions. For customers who want the value of the Mercedes-Benz brand at an even more cost-effective price, the Metris Worker Cargo and Worker Passenger vans provide all of the quality you expect from Mercedes-Benz in a value package.
Metris vans are available in two different wheelbase offerings:
126 inches (Cargo and Passenger)

135 inches (Cargo only)
The vehicle overall length is dependent on the wheelbase:
202.4 inches (126-inch wheelbase)

211.4 inches (135-inch wheelbase)
The vehicle overall height differs slightly between Cargo and Passenger models:
Cargo: 75.2 inches

Passenger: 74.4 inches
Metris vans have the following widths at the mirrors:
Standard Metris vans: 88 inches

Worker series: 88.3 inches
What is the capacity of a Metris Cargo?
The Metris Cargo is a leader in its field with a best-in-class cargo capacity and turning diameter. The Metris Cargo (135-inch wheelbase) outperforms the Ford Transit Connect cargo van in maximum payload, maximum cargo volume, towing capacity, and turning diameter.
Seating Capacity
Payload
2668 lbs. (126-inch wheelbase)

2612 lbs. (135-inch wheelbase)
Cargo Floor Length
111.5 inches (126-inch wheelbase)

120.5 inches (135-inch wheelbase)
Cargo Volume
183 cubic feet (126-inch wheelbase)

199 cubic feet (135-inch wheelbase)
Standing Room
Maximum Towing Capacity
What is the capacity of a Metris Passenger?
Seating Capacity
Seven passengers (standard configuration)

Other configuration options five or eight passengers
Payload
Cargo Volume
Headroom
Maximum Towing Capacity
What other features make a Metris Van unique?
In addition to an expansive cargo bay that allows the Metris to move larger amounts of cargo than its competitors, these vans offer all of the safety features and upgrades that you have come to expect from Mercedes-Benz.
The following key safety features are standard on all vans:
Crosswind Assist

Load-Adaptive Electronic Stability Program

Attention Assist

Hill-Start Assist
When you purchase a Metris van, you also have access to Mercedes-Benz Expert Solutions to upfit your van to one of the following configurations:
General Services Package – Cargo

Face-to-face seating for seven – Passenger

Wheelchair access – Passenger
Experience Metris Vans at Ray Catena Mercedes-Benz in Edison, NJ
Once you have made the decision to showcase your fleet or business with a Metris van, your first and only stop is Ray Catena Mercedes-Benz in Edison. Our expert and friendly staff is ready to help you select the ideal Metris for your needs. We make it easy to apply for financing online so that when you visit, you are already armed with the full knowledge of your purchasing power.
Once you are driving your new Ray Catena Metris, our award-winning service center is in your corner to provide all of your service needs. Our factory-trained technicians are on hand for your routine maintenance as well as major jobs such as transmission overhauls or collision repair.
Come and experience for yourself the difference that is Ray Catena Mercedes-Benz. The moment you arrive, you will know that we are far from an ordinary dealership. When acquiring a luxury brand such as Mercedes-Benz, we believe the luxury should extend to every facet of your vehicle purchase process as well as ownership. Whether you are visiting us for an oil change or adding multiple vehicles to your fleet, Ray Catena Mercedes-Benz will ensure that you feel comfortable and appreciated while we serve you.
Visit our showroom today at 910 US 1 North or our service center at 123 Main Street, both in Edison, NJ. You can also contact us by phone, email, or instant messaging on our website.