The Cost-Saving Benefits of the Mercedes-Benz Sprinter Van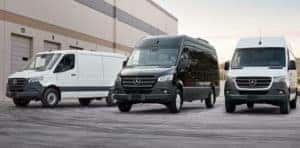 Cost saving is crucial for transportation companies and other businesses that rely on commercial vehicles. When margins are tight, every dollar spent on fuel or repairs eats into profits.
Fuel-efficient autos with limited maintenance and repair needs allow owners to keep more income. Meanwhile, innovative safety features can lower insurance premiums, putting even more money in your wallet. 
The Mercedes-Benz Sprinter is one of the best examples of a commercial van with low operation costs. These vehicles use build quality, proprietary technology, and customized design to increase functionality while lowering operating costs. 
If you are ready to add reliability and efficiency to your fleet or service vehicle, visit Ray Catena Edison to learn more about the different van configurations and find the perfect fit for your needs and operations budget.
How Does the Mercedes-Benz Sprinter Van Optimize Fuel Efficiency and Reduce Operating Costs?
The Mercedes-Benz Sprinter Van boasts advanced engine and powertrain design and reliability-focused engineering to lower costs and extend the period between tune-ups.
The engines on the Sprinter provide the perfect illustration of the balance of performance and efficiency. The vans' standard 4-cylinder diesel engines deliver 170 hp and 295 lb-ft of torque, while a high-out option brings those figures to 211 hp and 332 lb-ft.
Paired with a 9G-TRONIC transmission, these engines deliver the necessary power while using less fuel than their gas counterparts and other commercial brands.

These traits translate into tangible benefits in the form of dollars and cents at the fuel pump and in your trip logs. 
What Versatile Cargo Space and Customization Features Contribute to Cost Savings?
MB Sprinters have standard, high, and long body options. Models include passenger, crew, cargo, and cab chassis vans.
Passenger vans can accommodate up to 15 individuals, and the cargo variation contains up to 6,250 lbs of materials. The crew van offers both functions, holding 396 cubic feet of equipment and five passengers.
What do these layout and size options mean for you? With the right layout, you can maximize capacity, carrying everything necessary to get the job done without having to take multiple trips.
The right configuration can help you to carry necessary equipment and laborers in one trip instead of spending more on gas traveling back and forth. 
Mercedes-Benz has a robust up-fitting program that can help you add the exact storage, equipment, or transport features you need to do your job in the most efficient and time- and cost-saving way possible. 
How Can the Safety Features of the Sprinter Van Help Prevent Accidents and Reduce Insurance Costs?
Available Sprinter safety features include lane departure warnings, blind-spot monitoring, forward collision warning, and automatic emergency braking.
The standard Active Brake Assist system is an example of this safety tech. It relies on the Sprinter's radar sensors to detect vehicles and obstacles. After sending a warning, it can help apply the brakes if you don't respond in time. Unlike its competitors, the Sprinter's brake assist system responds to pedestrians.

Insurance companies consider these safety systems when calculating policy premiums. The Sprinter's class-leading safety tech can lead to cost savings in the form of lower monthly insurance payments.
What Longevity and Resale Value Does the Mercedes-Benz Brand Offer for Cost-Conscious Buyers?
Sprinter vans have 15,000-mile service intervals. This means more time at work and less time in the service garage, and it limits spending on maintenance. Mercedes-Benz guarantees durability with an optional 5-year, 100,000-mile warranty.
Longevity is a major factor in resale value. Because of their long-term reliability, Sprinters hold their value better than many other vehicles in their class.
These characteristics bring two advantages. First, you can go for a longer time before needing to replace your van. If you choose to sell it, you can charge a higher price with a Sprinter than with another van.
Experience Cost-Effective Excellence with the Mercedes-Benz Sprinter Van at Ray Catena Edison
The sales representatives at Ray Catena Mercedes-Benz of Edison can explain the Sprinter's cost-saving traits in-depth and help you find a model and configuration that fits your needs.
While you can visit our showroom to see Sprinters yourself, you can also start the process by looking at the different Sprinter vans on our website. Once you've narrowed your search, you can connect with our team to schedule a test drive and talk with a knowledgeable representative about the different options and cost-saving features.