The Best Cargo Vans for Small Businesses
Local small businesses are the lifeblood of the economy for communities across the country, and many of these companies rely on vans to move materials and workers to job sites, act as mobile offices, transport passengers, and accomplish many other purposes. The central importance of the van means that small business owners are concerned about having a vehicle they can rely on, that's fuel and cost-efficient, and that works well for their company in all aspects.
View Our Commercial Van Inventory
What Is The Best Cargo Van For Small Businesses?
At Ray Catena Auto Group, we know that the Metris and Sprinter lines of vans from Mercedes-Benz – powerful, reliable, highly customizable, and built with precision German engineering – are among the best choices on the market. We've served tri-state area small businesses for decades, helping them build and outfit van fleets that increase productivity and profitability.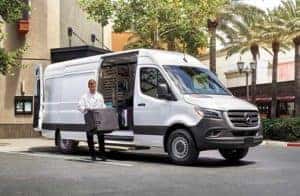 Sprinter Van Dimensions and Capabilities
The Mercedes-Benz Sprinter van is available with 144-inch and 170-inch wheelbases as well as lengths of 233.5 inches, 274.3 inches, and 290 inches. In addition, both wheelbases are available in high-roof versions.
The Sprinter van has a maximum payload capacity of 6,768 pounds, with cargo space up to 532.6 square feet, so it's capable of hauling the biggest loadouts tri-state area small businesses need to get the job done. Thanks to our custom upfitting, allowing you to turn your Mercedes-Benz Sprinter into a versatile construction van, reliable refrigerated transport with industrial-grade climate controls, and much more, this vehicle is the perfect choice for businesses with heavy-duty van needs.
See also: Sprinter Van Dimensions
Metris Van Dimensions and Capabilities
The Mercedes-Benz Metris van has 126-inch wheelbase (202.4-inch overall length) and 135-inch (211.4 overall length) wheelbase models available – the shorter 126-inch models include both cargo and passenger vans, while the longer 135-inch vehicles are exclusively cargo vans. Metris cargo vans have a roof height of 75.2 inches, while Metris passenger vans are 74.4 inches high at the roof.
The Metris van is fuel-efficient and compact enough to fit in most standard garages, but still boasts a 2,150-pound payload capacity and towing strength up to 5,000 pounds, and with configuration options seating up to eight passengers, it's perfect for our custom upfits as an office van, local package delivery vehicle, limousine, executive shuttle, and much more.
See also: Metris Van Dimensions
Mercedes-Benz Sprinter and Metris Vans for Sale in New Jersey
No matter the needs of your business, the powerful, reliable, and ultra-customizable lines of Mercedes-Benz vans can meet those requirements. At Ray Catena Mercedes-Benz of Edison, we're dedicated to finding the perfect vehicle to supercharge your company's performance, all while offering legendary customer service. Contact us today, visit us in person, or learn more about buying or leasing a Mercedes-Benz van with Ray Catena.
Sprinter and Metris Van Upfit Packages For Sale at Sprinter Vans Edison: