Sprinter Vans Lease Specials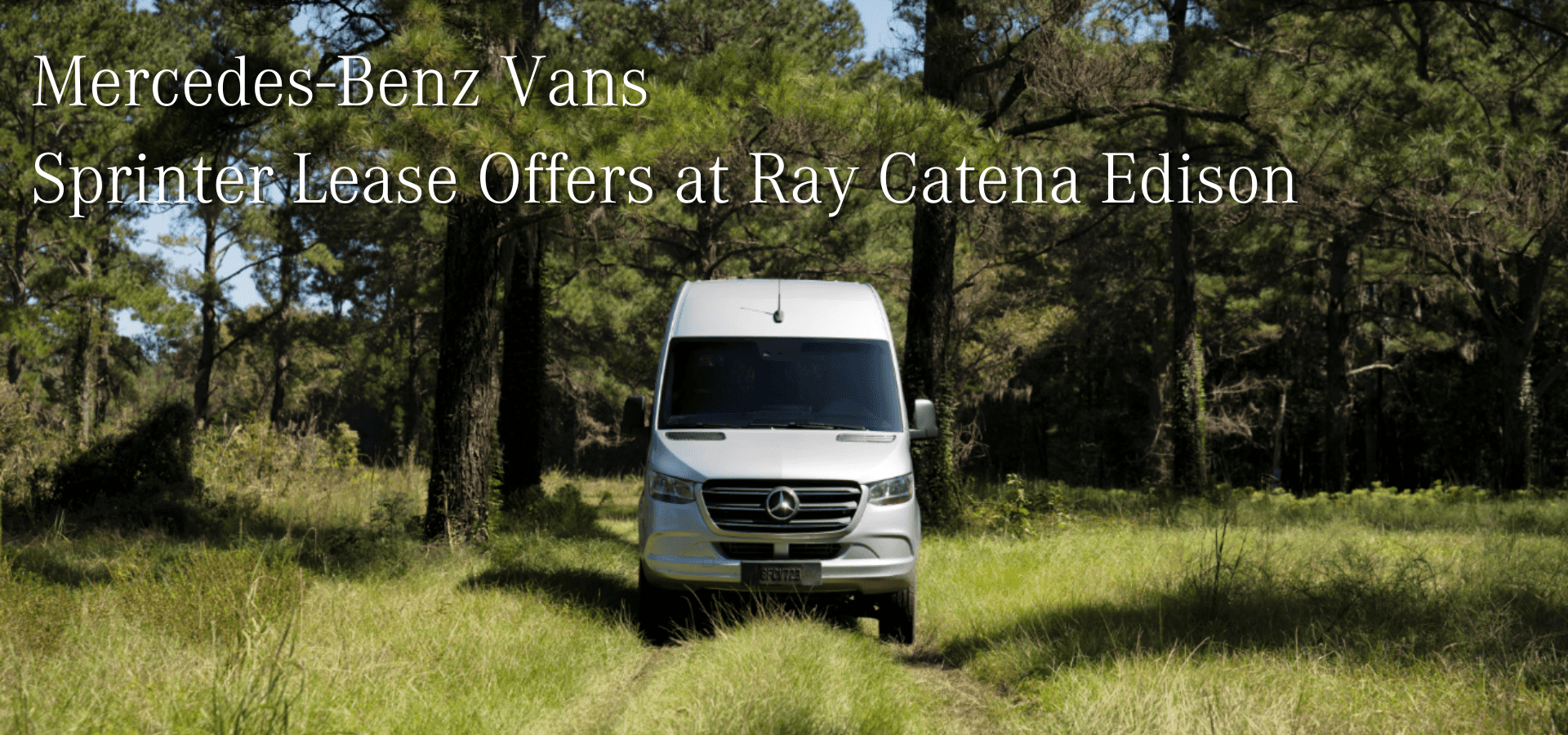 The Mercedes-Benz Sprinter van fits the bill for almost any job, with a capacity of up to 15 passengers (and almost 7,000 lbs.). If your business could benefit from having these capabilities, then you would be well-served by Ray Catena of Edison's Sprinter lease specials.
Browse Sprinter lease specials below, and please contact us for more information.
---
We are currently updating our monthly offers. Please check back shortly for updates.
In the meantime, here are some links that you might find helpful:
The Mercedes-Benz Sprinter van is one of the most versatile commercial vans on the market with three models to choose from — Sprinter Cargo, Sprinter Crew, and Sprinter Passenger. You can choose a standard or raised roof, standard or long wheelbase, and gas or diesel engine; Mercedes-Benz even offers a 4X4 model when your business needs to get to destinations past where the pavement ends.
The 2022 Sprinter van lineup continues to haul in the awards and accolades from the business sector, including being voted "The Most Reliable Van" by Fleet News for a stunning seven years in a row. Ray Catena can help outfit your business with what we believe is the world's most capable commercial van through our special Sprinter van leasing program.
For business and industry, leasing presents an excellent option for adding a prestigious Mercedes-Benz van to your fleet without the cost and obligation of completing a full purchase of the vehicle. Leasing a Sprinter van allows you to deliver goods, services, and people in style while affording you lower monthly payments—and in most cases, shorter terms—than an outright purchase.
Leasing Your Sprinter Van With Ray Catena
Leasing a Sprinter Van is an excellent option in almost all scenarios, but it is particularly useful when the business is a startup or considering expanding. With a Sprinter Van lease from Ray Catena of Edison, you get a double advantage. First, you project the prestigious image that comes with Mercedes-Benz's top-flight vans – that your company is a professional outfit that pays attention to detail and delivers quality results. And secondly, you can accomplish all of this with terms that are friendly to your budget and help your bottom line.
Our team is there to make the leasing experience smooth and seamless. Our professional sales team will guide you through all of the van options available, while our finance experts work tirelessly to source the best terms possible. After your Sprinter is on the road representing your organization's professional image and earning profits, our factory-trained service specialists are always available to provide state-of-the-art maintenance and repairs.
Leasing Through Mercedes-Benz Financial Services
When considering a source for your Sprinter van lease, our finance team believes that the terms offered by Mercedes-Benz Financial Services are, in most cases, the best terms available anywhere. Ray Catena of Edison leverages our almost 40-year partnership with Mercedes-Benz to offer extraordinary pricing and terms.
Once you have selected the perfect Sprinter van, our sales team will turn you over to our talented staff in the finance center who will diligently work with our partners at Mercedes-Benz Financial Services to obtain a lease that is ideally suited to your budget.
They will also go to great lengths to explain the benefits of leasing versus a purchase agreement. Many customers are unaware of the advantages and flexibility that accompany a leasing arrangement. But we will make sure you know all of the benefits so you can use the lease to your best business advantage.
Here are just a few of the pluses a Sprinter Van lease with Ray Catena provides:
Lower monthly payments (in most cases)
Fewer sales tax obligation
The opportunity to drive a new vehicle every 3 to 4 years
No need for gap insurance
Lease-end credits when you subsequently purchase or lease a new vehicle
VanCARE Lease-End Protection lets you waive up to $7500 in charges (e.g., excessive wear) when your lease ends (conditions apply)
At Ray Catena Mercedes-Benz, we do not want the financial aspect of acquiring your new Sprinter to detract from the excitement that surrounds adding a new, high-quality vehicle to your fleet. This is why we structure all offers to be fully transparent and straightforward. We understand that when customers are fully informed, they feel more confident and relaxed about the entire process. Consequently, we give you the tools to arrive at our dealership equipped with a firm understanding of what to expect.
From right here on our website, you can obtain an approximate valuation of your trade, get an estimate of your monthly payments, and get pre-approved financing with Mercedes-Benz Financial Services. At Ray Catena, there are never hidden fees or other surprises that can ruin what is supposed to be a rewarding experience.
If you prefer to conduct business by sitting down in person, we are happy to welcome you to our comfortable offices where we will explain every step to your satisfaction. At Ray Catena, the customer comes first, and we want to conduct business in the manner that best suits you. So, whether you like the speed and convenience of an online shopping experience, or prefer the traditional approach of working out a deal across the desk, our skilled financial associates will always strive to secure a deal that puts a smile on your face.
*Note: Actual lease terms/payments vary and depend upon the creditworthiness of the customer and credit approval.
Showcase Your Business with a Mercedes-Benz Sprinter Van from Ray Catena
When you provide your goods or services with a Mercedes-Benz Sprinter van, people will take notice and welcome your appreciation of quality and reliability. Mercedes-Benz is the type of brand that, when customers see the star in the grille, there is an instant association with excellence. When you buy or lease from Ray Catena of Edison, you can expect the same quality and excellence at every step.
Furthermore, when you avail yourself of our Sprinter van leasing specials, you can rest assured in knowing that you have made the best financial decision possible for your company or organization. And with your new Sprinter van representing such a significant investment, it only makes good financial sense to afford it the best protection possible. You can do this by depending on our award-winning service center to take care of all of your parts, maintenance, and repair needs.
Our service center covers your new Sprinter from bumper to bumper. If your Sprinter just needs an oil change, you can visit our Express Service where no appointment is necessary. For more involved service, you can conveniently arrange it using our online scheduling page. The Edison service center offers a full array of maintenance and repair options, including tires and alignment, collision repair, and many other automotive services.
We invite you to stop by our dealership in Edison to see firsthand why the Mercedes-Sprinter van is a consistently award-winning favorite in the commercial van sector. We are ready to answer all of your questions and take you out for a test drive. We will also fully explain all of the lease options available so that you can make the most informed decision possible. And after your acquisition, our service center is there to make sure your Sprinter stays on the road where it belongs and continues doing the optimal job for your business.
Contact us today to check out our Sprinter inventory and receive full details on our available financing offers. We always offer special lease packages that can help you put your company's name on the side of a new Mercedes-Benz Sprinter van.