Exploring the Innovative Technology Features of Mercedes-Benz Sprinter Vans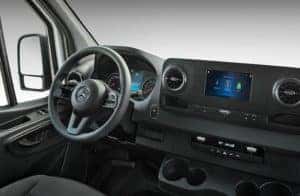 Mercedes-Benz Sprinter vans merge the quality and reliability of the Mercedes brand with the practicality and customization you need from a commercial van. Sprinters have a high degree of build quality and innumerable layout, seating, and cargo space options to meet the requirements of any business.
Sprinter vans also offer cutting-edge tech features that enhance infotainment, driver and passenger safety, efficiency, and fleet data collection.
At Ray Catena Edison, not only are we the tri-state area's most reliable choice for buying, leasing, and servicing Mercedes-Benz Sprinter vans, we also work with Mercedes-Benz Master Upfitters to deliver a custom vehicle that's perfect for your company. Upfitting a Sprinter allows you to adapt its technological features, creating a high-performance construction transport, luxury limousine, refrigerated delivery vehicle, and beyond. Contact us today to learn more, or read further to find out all of the incredible tech features of Sprinter vans.
View Our Sprinter Van Inventory
What Features Make the Mercedes-Benz Sprinter Van a Top Choice for Businesses?
Sprinter vans are exceedingly versatile. Passenger models can hold 12 to 15 people, while cargo versions accommodate two passengers and 523.6 cubic feet of cargo and materials or equipment weighing up to 6,250 pounds. You can also opt for a customizable cab chassis for a larger, taller, or wider cabin.
Through Mercedes-Benz, Ray Catena Edison offers a robust upfitting program to help business operators get the features they need for efficient daily performance. Options include shelving, compartments and refrigeration, HVAC, and plumbing features. With electrical and sensor elements, you can get any options you need for your business. You'll also be sure to find the right size vehicle, with 144-inch and 170-inch wheelbase models available and extended and high-roof models also on offer.
Sprinters also feature mobile-connected tracking and performance data apps and leading warranties covering up to 100,000 miles for the engine.
How Does the Advanced Technology in the Sprinter Van Enhance the Driving Experience?
Mercedes-Benz Sprinter vans have available infotainment interfaces. The MBUX multimedia system, with a 7-inch touchscreen, is optional for all models, and you can upgrade to a 10.25-inch screen. Both these systems have voice controls for hands-free use and navigation, and wireless device charging is available as a further upgrade.
The Mercedes-Benz me Connect and data services share the vehicle's location and efficiency statistics so that you can track costs and operation across a fleet of Sprinter vans. The information is extremely accurate thanks to available advanced telematics systems, which offer real-time information.
What are the Customizable Options Available for the Mercedes-Benz Sprinter Van?
Sprinter vans come in four different styles. Sprinter passenger vans can seat up to 15. The crew model is able to seat 5 while also carrying up to 396 cubic feet of equipment or materials. The cargo varieties boast a maximum payload of up to 6,250 pounds, and chassis cab varieties make complete cabin customization a possibility. Upfitting options allow you to install the equipment you need for daily operations, whether you're focused on delivery or services.
How do the Safety and Security Features of the Sprinter Van Ensure Peace of Mind?
The tech in Mercedes-Benz Sprinter vans extends to safety features. Active Brake Assist is standard on Sprinter vans. It uses radar sensors to locate other vehicles or barriers and alert you. If you don't react in time, the system applies the brakes to avoid an accident. The Sprinter is the only commercial van with an Active Brake Assist system sensitive enough to detect pedestrians.
The optional Lane-Keeping Assist system relies on the same sensors to monitor blind spots and the rear cross-path area behind the vehicle. These systems help you avoid common accident scenarios when you change lanes and move in reverse.
In addition to the driver and front passenger airbags, Sprinters have a solid and rigid unibody design to stand up to front and side impacts. Meanwhile, available remote lock and unlock features and an engine immobilizer system keep your Sprinter safe.
Experience the Future of Van Innovation with Ray Catena Mercedes-Benz of Edison
Come find out more about the innovative safety and vehicle data systems in Mercedes-Benz Sprinter vans in person at Ray Catena Mercedes-Benz of Edison. Our experienced sales reps can also provide insights about upfitting and customization options so that you can make an informed decision about the role Mercedes vans can play in your business operation. Don't miss out on the opportunity to elevate your company's transportation. Contact us now to schedule a Sprinter test drive or learn more about our inventory.
Learn More About Sprinter Vans: