Mercedes-Benz Sprinter Vans and Fuel-Efficient Engine Options: Enhancing Performance and Sustainability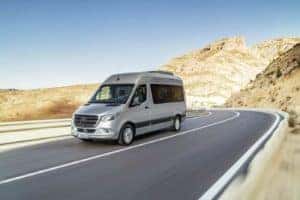 Many people favor Mercedes-Benz for the brand's style, comfort, safety, and prestige. You can now add efficient performance and sustainability to that list. Mercedes-Benz Sprinter Vans are a fantastic fuel-efficient option for greater economy, and they're better for the planet's environment as well.
You'll appreciate a selection when it comes to the fuel-efficient Sprinter Van engine. Here's a look at your choices and the Mercedes-Benz commitment to sustainability. You won't have to sacrifice good looks or rugged performance, as each Sprinter Van option ticks every box for drivers.
What Fuel-Efficient Engine Options Are Available in Mercedes-Benz Sprinter Vans?
4-cylinder gasoline engine
This is a terrific choice if you drive frequently in city environments or places with a lot of stop-and-go traffic. Gas is the ideal choice over diesel in your Mercedes-Benz Sprinter Van, as it's more efficient when your foot is on and off the pedal. Whether you need a van for your small mobile business or for your heavily trafficked commute, the 4-cylinder gasoline engine should be at the top of your list.
4-cylinder diesel engine
When you want the perfect balance between efficiency and performance, check out the Mercedes-Benz Sprinter with the 4-cylinder diesel option. This is a particularly good choice if you do a lot of highway driving and want to get more out of each fill-up at the gas station. You can reduce fuel emissions, save on expenses (including maintenance), and top off the tank less often with this model.
6-cylinder diesel engine
Are you a weekend or vacation van camper? This mode of transportation gives you wheels and lodging in one and is growing in recreational popularity. It's also a top choice for people who take their businesses on the road, making sales calls in other states or attending trade shows.
If you find yourself in this category, you may want to explore the 6-cylinder diesel engine Mercedes-Benz offers with the Sprinter. It affords multiple benefits, including:
Increased power for larger vans with a longer wheelbase and high roof

Significant fuel efficiency, which is better for your wallet and for the environment

Necessary torque for off-road driving, when coupled with a 4×4 drivetrain
Why is high torque desirable? It affords you more precise and controlled operation at lower speeds, yet it doesn't reduce your power. This makes driving your Sprinter easier and safer. Plus, it extends the lifespan of your engine and boosts your fuel economy for greater cost savings.
How Do Fuel-Efficient Engine Options Improve the Performance of Mercedes-Benz Sprinter Vans?
Mercedes-Benz uses multiple innovations to boost the performance of its Sprinter Vans and simultaneously provide greater fuel efficiency.
The 2.0-liter, 4-cylinder gas engine described above is incredibly responsive for quick accelerations, and it's remarkably economical with fuel, whether you're driving around town or taking it across the country.
It uses a turbocharged engine that gives you up to 188 horsepower and 258 lb-ft of torque, paired with a 9-speed automatic transmission for precise operation under varying conditions. You will appreciate having a 4,453-pound payload with the ability to tow up to 5,000 pounds.
Need more power under the hood? Take a look at the 3.0-liter V6 diesel model of the Mercedes-Benz Sprinter Van. You can add an optional 4×4 drivetrain to obtain 4-wheel drive on demand for off-road or bad weather operation.
This option brings you a 7G-TRONIC® Plus transmission, with 188 horsepower and 325 lb-ft of torque. Based on the package you select, you can reach a payload capacity of up to 6,735 pounds and the ability to tow up to 5,000 pounds.
You still reap the benefits of fuel efficiency — without having to give up anything in the way of juice. So, how do turbochargers like the ones in Mercedes-Benz Sprinter engines work to help achieve this?
Turbochargers add more oxygen to the combustion reaction in the engine where fuel is burned to strengthen the physical reaction and create more power. Turbocharging is more efficient than constantly adding large amounts of oxygen to the engine because big engines that draw in lots of oxygen nonstop tend to burn more fuel.
Turbochargers can be added to smaller engines to only add extra air when needed, such as when accelerating rapidly to merge on the highway. This on-demand aspect means you can get a nice "punch" when you need to put the pedal to the floor but still leverage the greater economy of fuel efficiency overall.
Not only that, turbochargers don't require extra engine power to operate. Instead, they are driven by exhaust gasses that would otherwise be wasted. It's the automotive equivalent of having your cake and eating it too!
What Are the Environmental Benefits of Opting for Fuel-Efficient Engine Options in Sprinter Vans?
Whether you are using a Mercedes-Benz Sprinter Van for your business in an urban location or for recreational enjoyment, like camping, you want to know its environmental impact. Reduced emissions through fuel efficiency can lower your carbon footprint, which is the effect you or your business have on the planet.
Fuel-efficient engines are the wave of the future as we look to slow climate change and improve air quality wherever we live. If you're committed to sustainability like Mercedes-Benz, operating a fuel-efficient Sprinter Van lets you rest assured you're not just making an effort — you're actually having an impact.
Eco-friendly vehicle choices aren't only a sound ethical choice. They also play an important role in compliance with environmental regulations. As more and more communities plan to transition to vehicles that produce fewer emissions, choosing a fuel-efficient, lower-emission Mercedes-Benz Sprinter Van will help you comply with vehicle mandates.
This is especially important if you operate a fleet of vehicles for your business, for which national initiatives have recently been announced. You can drive responsibly and legally while also saving on the expense of fuel.
Discover Fuel-Efficient Engine Options in Mercedes-Benz Sprinter Vans at Ray Catena Edison
When you're ready to capitalize on the fuel efficiency, sustainability, and power of a Mercedes-Benz Sprinter Van, Ray Catena Mercedes-Benz of Edison welcomes the opportunity to help you select just the right model.
We have a range of Sprinter Vans perfect for the needs of many types of businesses. Our expert team brings decades of experience to your selection process, plus personalized attention that you don't find elsewhere. In addition to our new and Certified Pre-Owned vehicles, we are always ready with service and parts.
To schedule a test drive, see us in person or reach out online any time with your questions.