Sustainability and Performance: Mercedes-Benz's Commitment to Electric Mobility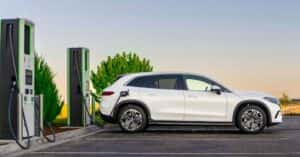 In today's automotive industry, sustainability and performance have become inseparable partners driving progress. At the forefront of this revolution is Mercedes-EQ.
Embracing the urgency of eco-consciousness, Mercedes-EQ showcases how cutting-edge technology and sustainability can reshape the driving experience.
Join us as we explore Mercedes-Benz's unwavering dedication to electric mobility, where power and purpose converge to pave the way for a greener and more exciting future on the road.
How Is Mercedes-Benz Embracing Electric Mobility and Sustainability in Its Vision for the Future?
Under its cutting-edge Electric Intelligence (EQ) brand, Mercedes-Benz is developing a comprehensive ecosystem of electric mobility products, services, and innovations, bringing the vision of a greener tomorrow to life.
Ambition 2039
At the heart of Mercedes-Benz's sustainable business strategy lies Ambition 2039. This ambitious initiative, launched in 2019, sets the course for a holistic approach to climate protection and air pollution control. By 2039, Mercedes-Benz aims to achieve net carbon neutrality across its entire fleet of new vehicles, spanning the whole value chain from technical development to recycling.
Expanding the Electric Portfolio
The electric future is already in motion at Mercedes-Benz. With a wide-ranging portfolio of battery-electric vehicles, including the compact EQA and the spacious EQS SUV, Mercedes-Benz offers an array of all-electric options. Looking ahead, Mercedes-Benz is prepared to go all-electric wherever market conditions permit.
Carbon-Neutral Production
In a remarkable commitment to sustainable production, all Mercedes-Benz plants have been net carbon-neutral since 2022. Going beyond traditional energy sources, Mercedes-Benz is investing heavily in solar and wind energy, aiming to cover more than 70% of energy demand at its production plants with renewable sources by 2030. Additionally, Mercedes-Benz is focused on reducing water consumption in production compared to 2018 levels by 33% by 2030.
Greening the Supply Chain
Mercedes-Benz's dedication to sustainability extends throughout its supply chain. To ensure responsible sourcing and adherence to sustainability standards, Mercedes-Benz requires its direct suppliers to comply with Sustainability and Responsible Sourcing Standards, fostering an eco-conscious culture across the industry.
The brand collaborates with partners like Hydro and Big River Steel to achieve a green, net carbon-neutral steel supply chain and continues to explore innovative solutions for greener production.
Battery Recycling and Circular Economy
With a strong commitment to battery recycling and circular economy, Mercedes-Benz is setting new standards in the automotive industry. The brand's battery recycling factory promises to achieve recovery rates of more than 96%. Mercedes-Benz also aims to increase its vehicle fleet's share of recycled materials to an average of 40% by 2030.
Mercedes me Eco Coach
Mercedes-Benz is dedicated to empowering customers on their journey towards eco-friendly driving with the Mercedes me Eco Coach. This intelligent, digital personal trainer provides valuable insights and recommendations for environmentally-conscious driving, enhancing the driving experience while promoting responsible and sustainable practices.
What Is Mercedes-EQ?
Mercedes-EQ represents the pinnacle of electric mobility, where cutting-edge technology and sustainability converge to redefine the driving experience.
Under this visionary banner, Mercedes-Benz offers an exceptional range of electric vehicles (EVs) and plug-in hybrid models, enabling drivers to embrace the electric future without compromising performance or style.
At the heart of every Mercedes-EQ vehicle lies a wealth of technological advancements and innovative design features. From the groundbreaking EQS with its all-electric architecture to the agile EQA, each model is crafted with precision and engineered to deliver extraordinary performance.
The EQ Power plug-in hybrids seamlessly combine electric driving with conventional combustion engines, offering the best of both worlds.
Ultimately, Mercedes-EQ drivers experience these benefits:
Reduced Emissions:

Embrace sustainability and contribute to a cleaner planet with significantly reduced emissions, making every journey a step towards a greener future.

Lower Operating Costs:

Experience economic advantages with lower operating costs, thanks to fewer moving parts and reduced maintenance in electric vehicles.

Silent and Smooth Driving:

Enjoy a serene driving experience with whisper-quiet cabins and smooth acceleration, characteristic of electric powertrains.

Environmental Consciousness:

Make a responsible choice for the environment and reduce your carbon footprint, knowing each Mercedes-EQ trip is eco-friendly.

Innovative Technology:

Explore the latest technological innovations, making every drive a seamless and connected experience.

Uncompromising Performance:

Revel in the remarkable power and performance of Mercedes-EQ vehicles, showcasing the harmonious blend of sustainability and driving excitement.
Mercedes-EQ: Advancing Electric Mobility
Mercedes-EQ brings the future of mobility to the present, offering a progressive and intelligent range of all-electric vehicles and plug-in hybrid models that pave the way for a more sustainable lifestyle.
With a wide array of electric offerings, Mercedes-Benz is driving the transition to an electrified future while delivering exceptional performance and design.
Technological Advancements That Set Mercedes-EQ Apart
Mercedes-EQ vehicles boast cutting-edge technological marvels and striking design features that elevate the electric driving experience
The ECO Assistant is an intelligent system that optimizes energy recovery by incorporating navigation data, traffic sign recognition, and sensor information into its efficiency strategy, ensuring a range tailored to every journey.
High-voltage batteries with ample capacity provide the electric range necessary for daily commutes and beyond, emphasizing practicality without compromise.
Discover the Components of Mercedes-EQ's All-Electric Drive
Mercedes-EQ's all-electric powertrain comprises essential components for seamless integration and enhanced efficiency.
The charging system, high-voltage lithium-ion battery, recuperative braking system, and electric motors work harmoniously, delivering exceptional performance and an eco-conscious driving experience.
Charging options are easy and flexible, allowing drivers to recharge at home or utilize the growing public charging infrastructure for on-the-go convenience.
Mercedes-Benz Wallbox: Charging Made Simple and Stylish
Enhance your charging experience with the Mercedes-Benz Wallbox, a sleek and intuitive solution for home charging.
With a charging power of up to 22 kW and the Mercedes me App for effortless operation, the Wallbox ensures safe and significantly faster charging than conventional household sockets.
Distinctive Mercedes-EQ Design: Setting the Tone for the Future
Distinctive yet unmistakably Mercedes-Benz, the design language of Mercedes-EQ models captivates with progressive luxury and sporty elegance.
Every detail reflects a commitment to a sustainable and electric future, from the iconic LED light band at the rear for high recognition to the interior's futuristic EQ-specific design.
Intelligent Energy Management for Optimal Range
Mercedes-EQ vehicles have intelligent assistants and systems that optimize range and ensure a relaxed driving experience.
Dynamic Select driving modes offer tailored characteristics, from energy-efficient "Eco" to performance-focused "Sport." At the same time, the ECO Assistant actively supports efficient driving, empowering drivers to reach their desired destinations with ease.
Explore the Future of Electric Mobility at Ray Catena Edison
Discover the sustainable luxury and high-performance electric mobility of Mercedes-Benz at Ray Catena Mercedes-Benz of Edison.
With 60 years of experience and a wide selection of new, Certified Pre-Owned, and electric vehicles, our dealership is your gateway to the innovative Mercedes-Benz EQ lineup.
Get in touch to explore our electric mobility solutions, schedule a test drive, and experience a seamless blend of sustainability and performance. Embrace the electrifying future with personalized service and unmatched expertise at Ray Catena Edison.