Sprinter Van Parts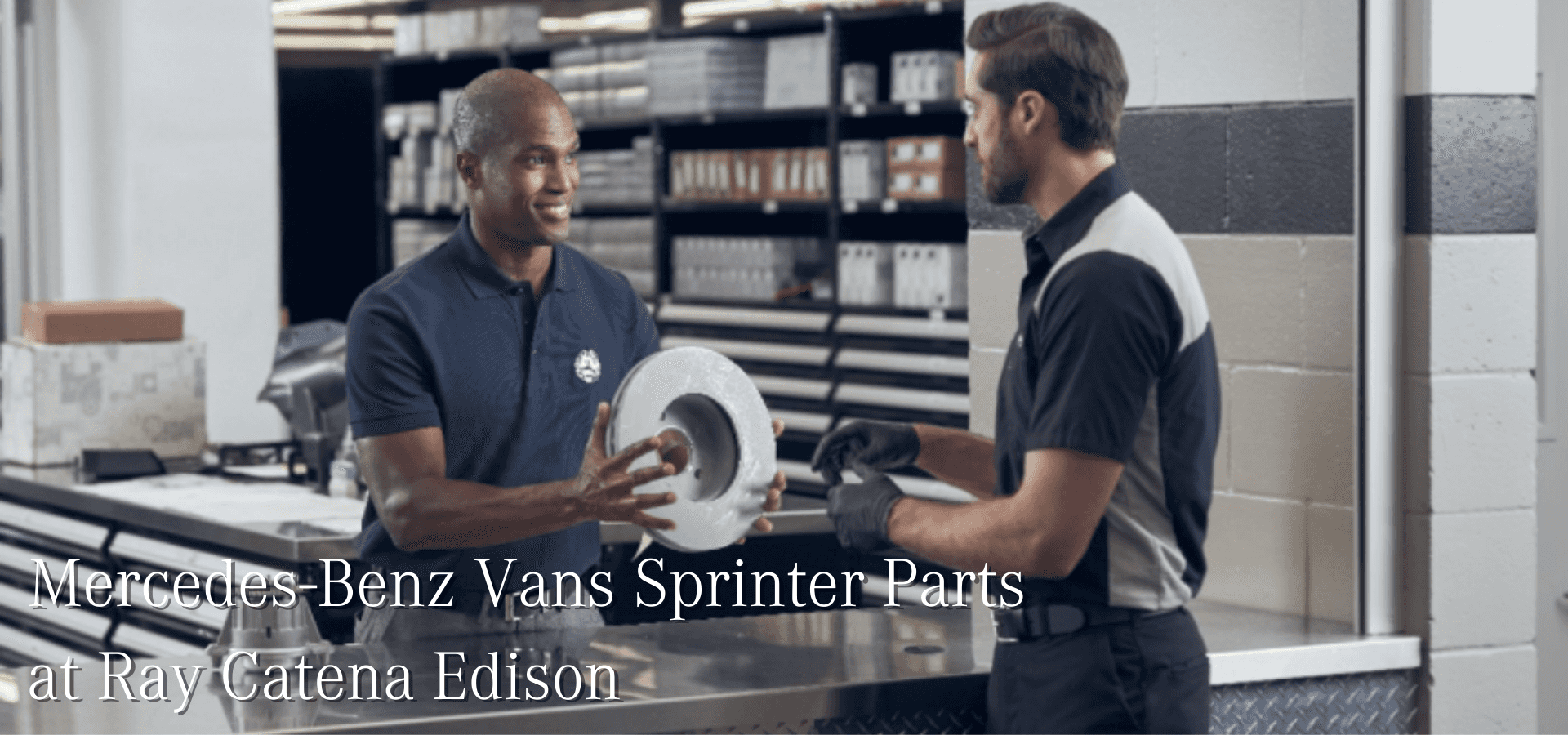 Top-Quality Sprinter Van Parts
The Mercedes-Benz Sprinter is one of the best vans on the market. You'll want to maintain yours well so it lasts as long as possible. To make sure that you meet your goals, always buy your Sprinter parts from Ray Catena Mercedes-Benz of Edison.
---
Mercedes-Benz Sprinter Van Parts at Ray Catena
The Mercedes-Benz Sprinter is one of the most adaptable, class-leading vans on the market, with award-winning design and technology. We help you maintain your new Sprinter with top-quality OEM Sprinter Van parts. And you can always get it serviced by the highly trained Mercedes-Benz technicians at Ray Catena's service department
Find OEM Sprinter Van Parts with Our Experienced Parts Department
Mercedes-Benz has a reputation for both quality and longevity, and when you buy your new Sprinter from us, you can expect top-class service. You've also got a great resource whenever you need genuine parts or accessories, engineered specifically for your vehicle.
We recommend that you always buy OEM parts rather than something generic, as Mercedes-Benz has purpose-designed them all. This means that each part has been carefully crafted so that it works perfectly with all the other systems and components of your Sprinter van. In other words, this is the only way to guarantee the best functionality.
Your choice of replacement Sprinter Van parts is an important consideration if you want your Sprinter to last and work the best. And remember, genuine OEM parts from Mercedes-Benz carry an industry-leading warranty – a full year of protection on basic equipment and up to 4 years for transmission or engine parts.
Order your brand-new Mercedes-Benz Sprinter Van parts with confidence from Ray Catena Mercedes-Benz of Edison. You won't find more enthusiastic and knowledgeable staff, and we will keep you up to date about any monthly specials as well. Contact a representative today for more information.
Tires
Once you've chosen your Sprinter, you can buy your tires from us to get the right products for your specific model. At Ray Catena, we stock all major tire brands, like Continental and Michelin. They'll be expertly installed by our skilled technicians, and we'll give you a competitive price.
Parts
Get in touch with our trained staff members whenever you need high-quality, genuine OEM sprinter van parts, as they're very familiar with the Sprinter. You can use our online form to order your parts as well.
Accessories
You may want to customize your new Sprinter, and that's why we stock a range of genuine Mercedes-Benz parts and accessories. Browse our selection to discover items that will help meet your safety, entertainment, comfort and convenience needs. We also have a range of lifestyle accessories like watches, key fobs and tumblers to help you celebrate your quality, new Mercedes-Benz vehicle.
Get Your Sprinter Van Parts at Ray Catena Mercedes-Benz Vans of Edison
You drive a Sprinter van for its performance, style and longevity, and you deserve the best when it comes to parts and accessories.
Get in touch with the knowledgeable staff at Ray Catena Mercedes-Benz Vans of Edison today to place your order or ask any questions.
Learn more about Sprinter and Metris Van Dimensions: