Mercedes-Benz Federal Tax Credits for EV Models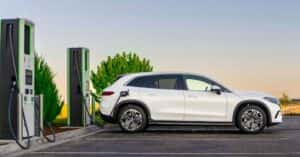 If you drive a Mercedes-Benz electric vehicle, or if you're thinking of buying one, you could benefit from federal tax credits. These tax credits are designed to reward drivers who opt for non-fossil fuel vehicles and to incentivize the purchase of these electric alternatives.
So how do these credits work, which vehicles are eligible, and how do you make your claim? At Ray Catena Mercedes-Benz of Edison, the tri-state area's leader in luxury electric driving, our knowledgeable staff has all the answers you need. Contact us today or read more on the federal EV tax credit below.
View Our Mercedes-EQ Inventory
How do federal tax credits incentivize the purchase of Mercedes-Benz EV models?
The federal government wants Americans to drive electric cars, reducing air pollution and minimizing the nationwide carbon footprint. To encourage drivers to make the switch, they are offering up to $7,500 of income tax credits — a major potential saving. This is available on a wide variety of different EVs and plug-in hybrids — vehicles worth up to $55,000 or SUVs and trucks worth up to $80,000 will generally be eligible.
If this sounds like a good deal, that's because it is! However, you need to be aware of the eligibility criteria and the maximum credit amount. Working with a tax professional and researching the latest changes on the IRS website can help you make sure you are claiming the right amount on an eligible vehicle.
Which Mercedes-Benz EV models qualify for federal tax credits?
Most Mercedes-Benz electric vehicles will qualify for these federal tax credits. This includes the following Mercedes-EQ vehicles:
This is not a complete list, and tax credit eligibility may be subject to change. It may be worth checking the IRS.gov website or working with a tax professional to make sure your vehicle is eligible.
How can I claim the federal tax credits for my Mercedes-EQ?
If you drive a Mercedes-Benz EV or plug-in hybrid, you can claim your tax credit via a straightforward process.
Firstly, you'll need to determine if the qualifying Mercedes-Benz vehicle is primarily a business-use vehicle or a personal-use vehicle.
For personal-use vehicles:
Visit the IRS.gov website and find Form 8936 — the Qualified Plug-in Electric Drive Motor Vehicle Credit form.

Download and print the form, then complete it.

Include the credit from this form on your U.S. Individual Income Tax Return (Form 1040).
For business-use vehicles:
Visit the IRS.gov website and use the same form — Form 8936.

Download, print, and complete the form.

Include the appropriate tax credit on your General Business Credit return (Form 3800).
While the process is simple in both cases, there are a few things to bear in mind here:
IRS regulations are subject to change — check the IRS.gov website for the appropriate tax year to make sure your return is up-to-date.

A tax professional can help you make sure you're gaining the maximum benefit from the credit — for example, you may be able to use your credit toward the alternative minimum tax (AMT) if you purchased your vehicle from 2010 onward.

Tax software can help you streamline your filing and avoid any mistakes.
Discover the Future of Electric Driving at Ray Catena Mercedes-Benz of Edison
Experience the thrill of driving a cutting-edge electric vehicle from Mercedes-Benz. Visit our showroom or schedule a test drive to explore our range of electrifying models and learn more about the federal tax credits available. Our knowledgeable team is here to assist you in finding the perfect Mercedes-Benz EV that fits your lifestyle. Don't miss out on the opportunity to drive a sustainable and luxurious vehicle while maximizing your savings — Get in touch with us at Ray Catena Edison today!