2023 Mercedes-Benz EQE Sedan Review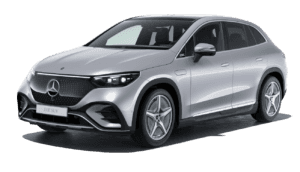 The Mercedes-Benz EQE all-electric sedan is another high-performance addition to the Mercedes-Benz luxury electric vehicle lineup. This model blends the practicality of a sedan and the efficiency of an EV with all of the power and luxury associated with the Mercedes brand.
With a range of 305 miles and impressive acceleration (0 to 60 in as little as 4.5 seconds), the EQE can handle longer journeys as well as adding excitement and comfort to everyday commuting and highway driving.
The knowledgeable team at Ray Catena Mercedes-Benz of Edison can answer all your LEV-related questions and help you get behind the wheel of the EQE sedan. Contact us today, visit us in person to take a test drive, or read further to learn more about this exceptional EV.
Performance & Charging
The Mercedes-Benz EQE lineup consists of three versions. Each has different performance specifications, but all share many features and can be conveniently charged at home or using a public fast charger.
The Mercedes-Benz me Charge application helps drivers find one of the 6,000-plus public charging stations available nationwide. Purchasing or leasing a new Mercedes-Benz EQE qualifies drivers for free 30-minute charging sessions at Electrify America fast-charger network locations for two years.
Owners can arrange home charger installation through ChargePoint and Qmerit. 240-volt home chargers can provide a 100% recharge in 9.5 hours, while fast DC varieties deliver an 80% charge in half an hour.
Once you know how to charge your EQE, you can take full advantage of its impressive performance specifications.
The EQE 350 rear-wheel drive and EQE 350 4MATIC® all-wheel drive provide 288 horsepower and 0 to 60 accelerations of 6.2 and 6.0 seconds, respectively. Many EVs are known for their impressive torque, but the EQE excels in this area. The 350 produces 417 lb-ft, and the 350 4MATIC® ups that figure to 564 lb-ft. The EQE 500 4MATIC® delivers 402 hp and an impressive 633 lb-ft of torque to all four wheels.
Even with these sport-sedan-worthy specs, the EQE's 90.6 kWh battery bank brings a 305-mile range for the rear-drive model and a 260-mile range for the 4MATIC® versions.
Finally, the Mercedes-Benz EQE enhances driving dynamics with proprietary AIRMATIC® suspension, an optional Active Damping System, and available four-wheel steering (with a choice of 4.5 and 10-degree rear axle steering options).
Design
The EQE embodies what it means to be a luxury electric vehicle, and its design is filled with enticing elements, down to the smallest details.
For instance, an EV's electric motor is much quieter than an internal combustion engine, making wind and road noise more evident for drivers and passengers. Mercedes-Benz solves this issue using the eye-catching "one bow" body shape to reduce wind resistance and noise while also increasing efficiency.
Acoustic foam adds to the quietness of the cabin, and the Burmester sound system provides both entertainment and access to various ambient sounds meant to enhance the driving and in-cabin experiences.
The modern yet timeless feel extends to the interior, with a rose gold vent strip, circular vents, and a floating center console and contoured infotainment touchscreen. All EQEs have a panoramic sunroof and ambient interior lighting around the dash and doors.
The front seats are heated and ventilated and feature an optional massage function and drape-style upholstery. The design provides 40.1 inches of front headroom and 38 inches in the rear. Legroom extends for 41.7 and 38.2, respectively.
Technology
Mercedes-Benz offers a 12.3-inch infotainment touchscreen on EQE models. This touchscreen utilizes a fingerprint scanner that drivers can use to open personalized profiles. The system has voice controls with artificial intelligence that adapts to commands and inflection over time. A voice assistant can provide feedback and directions, allowing drivers to keep their eyes on the road at all times.
Mercedes added elements to its navigation system specifically for electric cars. The MBUX Navigation with Electric Intelligence uses AI to increase efficiency and make driving easier. The system can optimize efficiency through route planning and make adjustments as you drive using data about speed and traffic patterns. In addition to standard and voice directions, the MBUX Navigation can project them onto a head-up display on the windshield. There is also an augmented reality video feed that displays route information and other data.
MBUX with Electric Intelligence also helps with energy management and maintains a database of charging stations.
Safety
Other Mercedes-Benz EQE features focus on safety. The cars feature multi-element LED lights that illuminate better than all alternatives, including xenon lamps.
EQE models also have Car-to-X Communication systems that deliver information on road dangers and conditions to a central database. Other cars with the system can send and receive information, painting a complete picture of the road and helping drivers avoid potential hazards.
The PRESAFE® system measures vehicle stability and can take safety steps if it detects aggressive evasive maneuvers that come before a collision or loss of control. PRESAFE® can then tighten seat belts, and close windows or the sunroof. If it does not sense a collision, the system reopens the windows and returns safety belts to their original tension.
Standard features like blind-spot monitoring, lane-exit warning, crosswind assist, and adaptive braking ensure you remain in control at all times and help you avoid other vehicles that you may not see when driving. Meanwhile, seven airbags ensure the safety of passengers in case of an accident.
Finally, EQE models have advanced EV-specific safety features. A protective aluminum and steel shell surrounds the battery. This structure stands up to rigorous testing for crashes and battery safety. The battery is also enhanced with comprehensive monitoring and emergency shutdown.
Finally, owners can use the smartphone app to adjust dynamics for novice drivers. It limits speed to 75 miles per hour and locks sport settings. The system also has a valet mode that limits speeds to 50 miles per hour and locks the navigation and data screens.
2023 Mercedes-Benz EQE Sedan For Sale at Ray Catena Mercedes-Benz of Edison
At Ray Catena Mercedes-Benz of Edison, our team can help you experience the cutting-edge technology and luxurious comfort of the all-new EQE Sedan and show you all the features and benefits of this exceptional vehicle. Contact Ray Catena Edison or visit our showroom at 910 Route 1 in Edison, NJ to schedule a test drive and elevate your driving experience with the Mercedes-Benz EQE.