2023 All-Electric Mercedes-Benz EQS 450+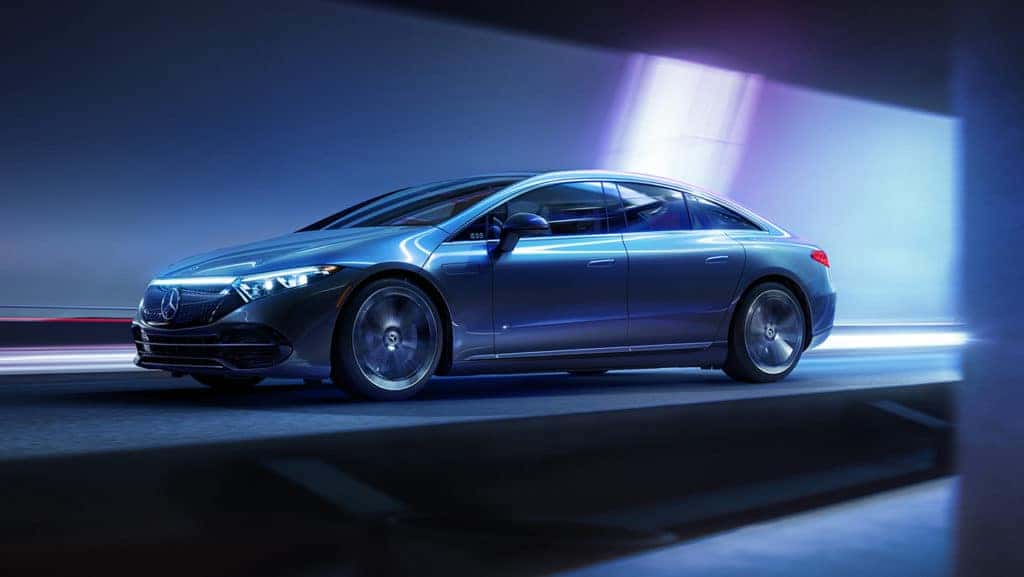 Mercedes-Benz EQS 450+
It's like no electric car you've seen. Personally attentive. Seamlessly responsive. Uniquely imaginative. More than a new era of motoring, the EQS is here to make every day a fresh start for your own future.
Standard Features
Rear 245kW permanently synchronous electric motor 
Smooth, quiet and rich in torque, the EQS 450+ is powered by an advanced 245kW electric motor that can send up to 329 hp and 417 lb-ft of torque to the rear wheels. The "permanently excited synchronous motor" (PSM) features permanent magnets to generate AC current with high power density and efficiency. An advanced cooling system helps assure maintain its high-performance consistency during spirited driving and a wide range of climates.
Intelligent Energy Recovery with paddles 
Paddles on the steering wheel let you vary the intensity of energy recuperated by deceleration and braking during normal driving. The default "D Auto" setting can activate the intelligent ECO Assist feature. Three levels of recuperation are also selectable, from none (effectively coasting when you let off the driving pedal) to Normal to Increased, which can allow one-pedal driving.
ECO Assist Feature 
Activated in the ECO mode of DYNAMIC SELECT, ECO Assist intelligently processes data from the vehicle's driving assistance and navigation systems to help you maximize your efficiency and energy recuperation from braking or coasting. Using GPS and map data, topography, traffic, and the detection of nearby vehicles via radar and the stereo camera, ECO Assist can optimize energy recovery to the situation, and also allow pure one-pedal driving in some conditions.
DYNAMIC SELECT
A multimode drive program selector on the console lets you transform the car's character with the flip of a switch. Three modes (ECO, Comfort and Sport) alter the drivetrain response, steering effort, and AIRMATIC® suspension. A fourth "Individual" mode allows you to create a mode of your own.
Advanced 107.8-kWh EV battery
A new generation of battery technology in the EQS offers significantly higher energy density. The high-voltage battery's usable energy content of nearly 108 kWh is managed by innovative software, developed by Mercedes-Benz, that can be updated over the air, without a dealer visit, to help maintain its performance throughout its long lifespan.
Multiple charging options 
The charge port in the rear fender eases attachment of compatible DC and AC charging devices. The AC socket allows for Level 1 charging from a standard 110-volt household outlet, or Level 2 charging from a 240-volt home installation or public charging station (approximately 30 miles of range per hour). Level 3 DC fast charging, available at many public stations, can replenish the battery to 80 percent in about half an hour, or add up to 186 miles of range in just 15 minutes.
Mercedes me Charge 
Mercedes me Charge helps make the entire process of locating, accessing and paying for charging seamless. App-based authentication via your smartphone, integration with the car's navigation, and access to the nation's largest charging network are backed up by two complimentary years of charging on the go. Plug-and-Charge requires no app or phone to authenticate: Your car takes care of it at select Electrify America DCFC stations. And all network charging helps put green energy back into the grid.
Intelligent thermal management 
Several circuits manage heating and cooling of various vehicle systems to enhance performance, durability, driving range and riding comfort. The powertrain cooling circuit helps maintain the electric motor output under the stress of repeated acceleration, and teams with the cabin heating system to reduce the need for electric heating. The high-voltage battery has its own cooler/chiller system that's especially helpful during fast charging. Cabin air is cooled independently as well.
AIRMATIC® suspension
For a balanced, comfortable ride, the AIRMATIC® semi-active suspension employs electronically controlled air springs that adjust to changing driving conditions. Components are engineered to offer quick response with light system weight. AIRMATIC®'s automatic 4-wheel level control helps compensate for additional cargo or passengers. It can also lower the ride height at higher speeds for improved aerodynamics, stability and efficiency.
Adaptive Damping System Plus (ADS Plus)
Incorporated into the AIRMATIC® air suspension, ADS continually optimizes ride and handling by automatically selecting one of four damping profiles for each spring-strut every time a wheel changes its direction of up-down travel. Driver-selectable Comfort and Sport modes allow you tailor handling response and ride firmness to your present driving style.
Electromechanical power steering
Advanced electromechanical power steering delivers quicker response in corners, easier maneuvering at low speeds, along with precise on-center feel and straight-line stability.
10-degree rear axle steering
For enhanced agility, stability and maneuverability, electromechanical actuators can steer the rear wheels up to 10 degrees based on driving speed and dynamics. Above 37 mph, the rear wheels can steer up to 3 degrees in either direction, to boost rear-wheel grip, cornering response, and control in evasive moves. At lower speeds and when parking, steering up to 10 degrees opposite the front wheels can cut the turning circle by close to 40 inches, for compact-car maneuverability in a large and spacious sedan.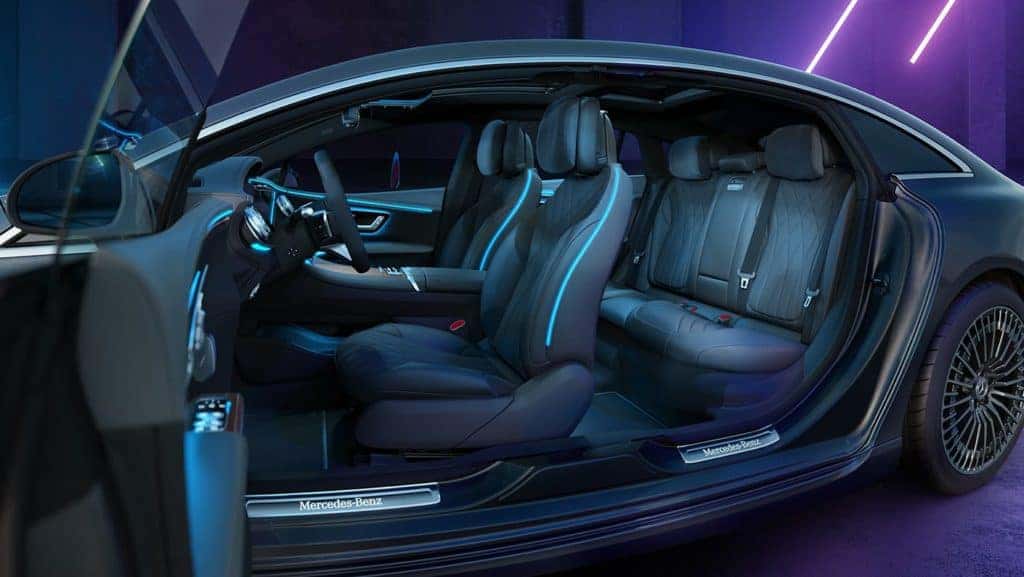 Optional Features
Multicontour front seats with massage

Sport front seats

4-zone automatic climate control

Energizing Air Control Plus w/HEPA Filtration

ENERGIZING Comfort w/Energizing Nature

Air Balance cabin-air purification system

Air Balance cabin fragrance system

Rapid-heating front seats

Power outboard rear seats

Heated rear seats

Heated and ventilated rear seats

Multicontour rear seats with massage

Rapid-heating rear seats

Rear-seat neck heating

Comfort-type center armrest

AMG® leather upholstery

Nappa leather upholstery

Microfiber headliner

Heated windshield

Laminated glass with thermal and noise Insulation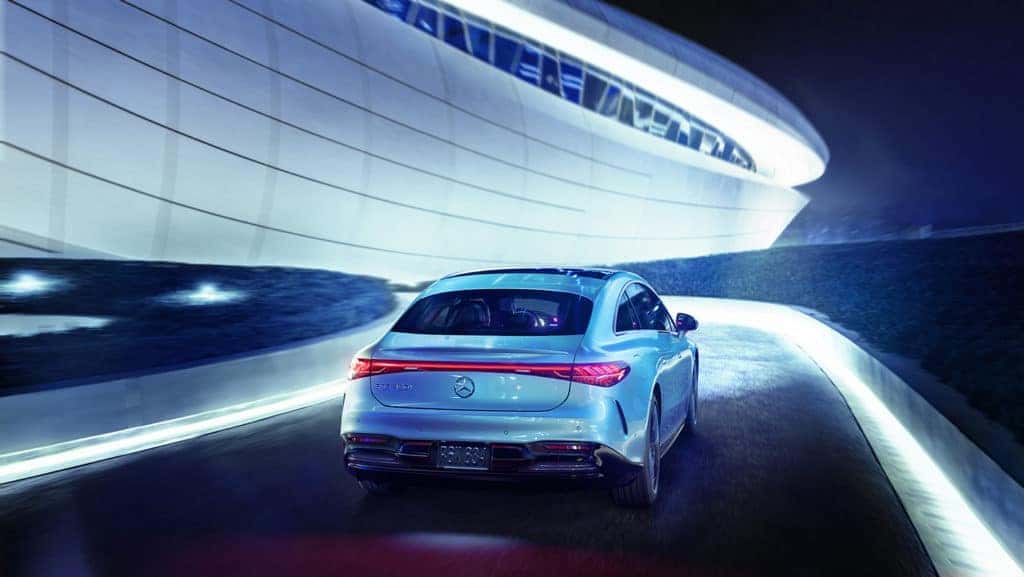 You'll find the new Mercedes-Benz EQS for sale this year at Ray Catena Mercedes-Benz of Edison. For more information, contact us, chat with us online, or fill out the contact form below to schedule a test drive to experience the 2023 EQS — the flagship of Mercedes-Benz's electric future. 
Click here for more info on the 2023 Mercedes-Benz EQS
Stop by and see us at Ray Catena Mercedes-Benz of Edison!