The All-New 2020 GLS
You're in the market for a new vehicle and don't quite know which brand is the best option for your needs.
Somehow in your search through the saturated market of luxury SUVs, you stumble upon the 2020 Mercedes-Benz GLS. With its bold front grille, LED headlights and taillights, soft lines, and sleek rear end, it's gorgeous, safe, and high-tech. Foremost, the GL class has been around since 2006, and only recently has it been renamed to the 'GLS.' Mercedes-Benz claims the change in name is in regards to the SUV being among 'The S-Class of SUV's.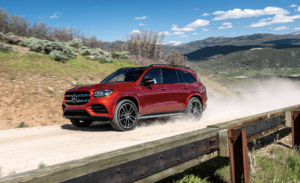 The 2020 GLS has a front engine, all wheel drive, 9-speed automatic transmission. New for this model year, you have the option to seat either 6 or 7 passengers. In the past only a 7 seat configuration was available, however, now the GLS offers a 2x2x2 setup that removes the middle seat in the center row in favor of two fully electric, spacious, captains chairs. Whether you option for the 6 seat configuration or the 7 with a bench, the third row will always seat two passengers.
In the base GLS 450, you get a 3.0-liter inline-6 engine creating 362hp and 369 lb-ft of torque. If you prefer more power, the GLS 580 offers a 4.0-liter V-8 cranking out 483hp and 516 lb-ft of torque. Acceleration in both vehicles is very quick with the base model jumping to 60mph in only 5.7 seconds and the GLS 580 model in 5 seconds flat.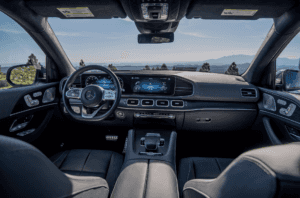 On the interior, Mercedes-Benz has integrated their newest software (MBUX) into dual 12.3in high definition screens which control the navigation, climate and seat massage functionality, audio, and more. MBUX is responsive, intuitive, and smart. You can control the interface through the steering wheel controls, center touch screen, console track pad, or even your voice by first saying "Hey Mercedes."
While certain commands will not work unless you opt to connect your vehicle to the internet, basic commands like changing the ambient lighting, or simply saying "Hey Mercedes, I'm cold" will trigger the vehicle to tune the climate control settings.
All in all, the GLS has received major upgrades inside and out. Between its driving dynamics and technology, this is one car that truly lives up to being 'The S-Class of SUVs.'