What is Mercedes-Benz Service B?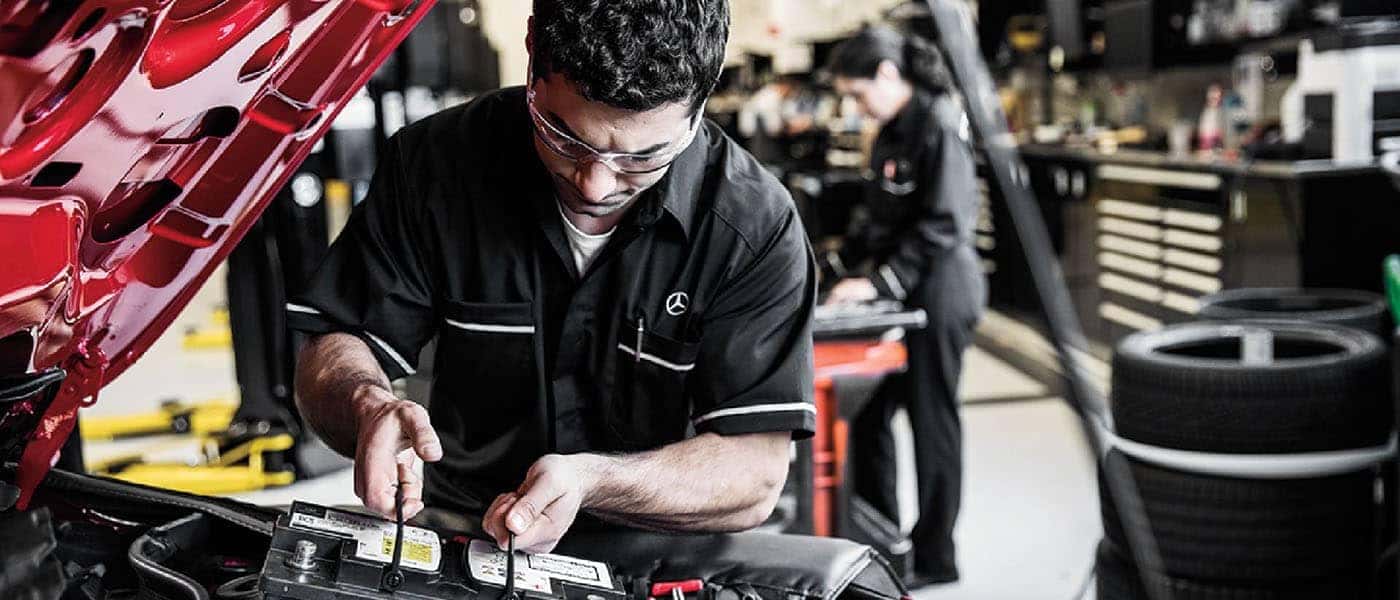 ---
Mercedes-Benz Service B* is performed at 20,000 miles or after 2 years, whichever occurs first. The maintenance tasks performed may depend on your vehicle, but during Service B at our service center, all models receive the following:
Synthetic Motor Oil Replacement**
Oil Filter Replacement**
All fluid level checks and corrections are dependent on factory-recommended service intervals for your vehicle's year and model
Tire inflation check and correction
Brake component inspection
Reset maintenance counter
Cabin dust/combination filter replacement
Brake fluid exchange
Adhere to all required elements listed by model year and specific model as indicated on the corresponding service sheet for Mercedes-Benz Maintenance Systems in the USA.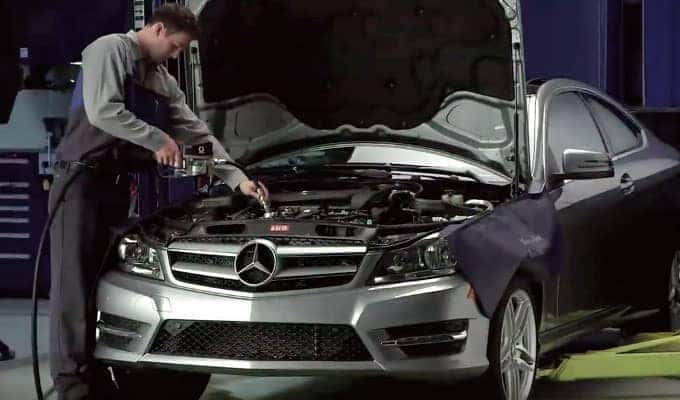 Service A and Service B: What's the Difference?
Mercedes-Benz Service A is completed after 1 year or 10,000 miles, so before Mercedes-Benz B. You can tell when your vehicle is due for these services because you'll notice a small wrench on the main console — this is part of the Mercedes-Benz Flexible Service System (FSS). It's designed to make it easier for you to keep tabs on service intervals. Service B involves a more comprehensive set of services; it includes all of the Service A tasks, as well as a brake fluid change and cabin air filter change.
What's the Mercedes-Benz Service B Cost?
Mercedes-Benz Service B prices*** vary. For an estimate, contact our service center directly and ask about our rates. There are also ways to reduce your service costs, such as taking advantage of our service specials!
Why Choose Us for Mercedes-Benz Maintenance?
You may think an independent shop or third-party chain is more than equipped to handle something like a Synthetic Motor Oil Replacement** or tire rotation. The truth is, however, that service for Mercedes-Benz vehicles is more complex; these vehicles require specific parts and high levels of brand knowledge. When you choose Mercedes-Benz of Edison near Staten Island, you'll enjoy the following advantages:
Our technicians use state-of-the-art equipment to detect and resolve issues before they worsen.
We use only OEM Mercedes-Benz parts during service to ensure our East Brunswick customers get the best possible performance and fit for their money.
Schedule B Service at Mercedes-Benz of Edison!
If your vehicle is due for Service B, schedule a service appointment near New Brunswick at Mercedes-Benz of Edison!
More From Mercedes-Benz of Edison
3-Row Mercedes-Benz SUVs The 3-row SUV bridges the gap between the compact sports utility vehicle and the larger mini-van. Providing the flexibility and capability that larger families need without sacrificing any of the poise and power that makes Mercedes-Benz SUVs so special, this is a popular choice for buyers looking to upgrade the capacity of…

The Mercedes-Benz Key Fob Battery: Everything You Need to Know The Mercedes-Benz key fob packs an incredible amount of versatility into one sleek little device. You can open and close the windows and sunroof remotely, unlock all the doors or the driver's only, and with the brand's KEYLESS GO® technology, unlock the door and start…

Introducing the all-electric Mercedes-Benz EQB With an electric powertrain and available with seating up to seven, the EQB is all about efficiency and functionality, without sacrificing luxury. The electric EQB300 comes with all-wheel drive and a 420 volt lithium-ion 66.5 kWh battery. The EQB350 upgrades from one to two motors for even…
**Oil and filter change is the base advertised service component. Additional services as determined by your vehicle's ASSYST Plus system, which calculates service needs based on your driving habits, time, mileage and environmental conditions, may increase service cost.
***2009 and newer Mercedes-Benz vehicles only. Price advertised for Service A/Service B includes all factory-required components. Please refer to your maintenance booklet for the complete list of factory-required services and details on the specific intervals for your vehicle's year and model.