Mercedes-Benz Connect Bluetooth®
Mercedes-Benz Bluetooth®: Frequently Asked Questions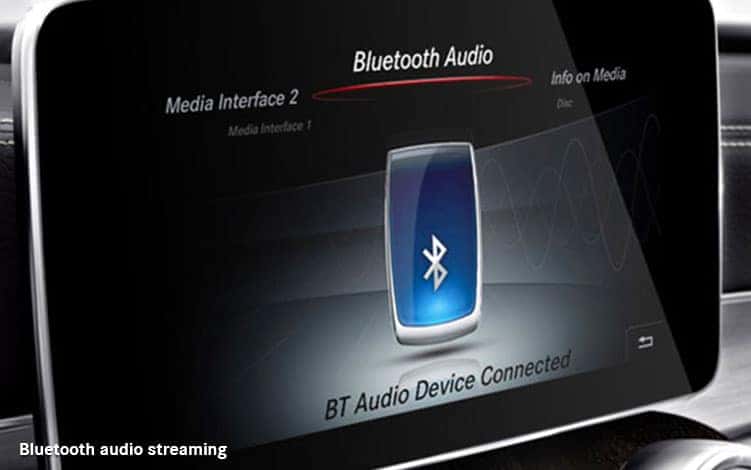 Mercedes-Benz vehicles offer a wide range of tech features designed to make life easier – and more enjoyable – for all of their drivers. Here at Ray Catena Mercedes-Benz of Edison, we support our customers as they get the very best from their vehicles, offering a wide variety of models and even providing custom upfits of Mercedes-Benz vans suitable for various businesses.
One of the features we love the best is Bluetooth® connectivity – a great way for you to personalize your driving experience and get from A to B in the right way. Our expert and friendly team can help you with any connectivity issues you might have, so feel free to reach out to us or pay us a visit to learn more.
In the meantime, however, check out our answers to some of the most frequently asked questions about Mercedes-Benz Bluetooth® connectivity.

What kind of Bluetooth® functions do Mercedes-Benz vehicles offer?
The main function of Bluetooth® connectivity in a Mercedes-Benz vehicle is to pair a Bluetooth®-enabled device with the car's onboard systems. This pairing is a wireless connection between your vehicle's systems and another device, usually a smartphone. This means you can play music, make calls via hands-free input, or use the device as a navigation aid. Read on to discover more about what you can do with a Bluetooth® device in your vehicle.
How can Bluetooth® devices be used with a Mercedes-Benz car?
When you pair your Bluetooth®-enabled devices with your Mercedes-Benz car, you are essentially extending your device's capability to those of your automobile. For instance, when you play music on your device, the audio comes to you through your car's speakers rather than the device's.
This means you have a number of different options when you use Bluetooth® in your Mercedes-Benz.
 You can play music, podcasts, ebooks, and other audio with better quality and higher volume.

You can use voice commands to carry out hands-free actions, such as sending a message while you drive.

You can carry out hands-free phone calls while you're on the road.

You can display device apps on the vehicle's built-in screen – like the luxurious Hyperscreen in the new 

all-electric 2022 EQS sedan.
What are the steps to connecting a Bluetooth® device to a Mercedes-Benz vehicle?
With a simple step-by-step approach, connecting your Bluetooth®-enabled device to a Mercedes-Benz vehicle is easy.
Open your device, go to settings, and turn Bluetooth® on.

Set the device to 'discoverable.'

Use the Mercedes-Benz console screen to search for devices.

Select your device from the list.

Complete the security ver

ification – usually, this involves entering a passcode that matches the one displayed on your vehicle's screen.

Select 'pair' on your device to complete the connection.
Our renowned service department team is on hand to assist you if you encounter any issues!
Which Mercedes-Benz models feature Bluetooth connectivity?
You won't need to worry whether or not your auto supports Bluetooth® connectivity. All new Mercedes-Benz vehicles now include Bluetooth® connectivity as standard, so you will be able to use your device any way you want to.
Get the Support You Need for Your Mercedes-Benz Bluetooth® Connectivity – Or Find Out More About What We Can Do for You
Whether you need further assistance with Bluetooth® technology in your vehicle or you'd like to discover more about what we can do for you here at Ray Catena, speak to our friendly team.
Contact us today, come and visit us in person, or simply browse our online range. We have Mercedes-Benz vehicles available to test drive, and our knowledgeable staff has all the information you need.