2023 Mercedes-Benz AMG® EQE SUV Review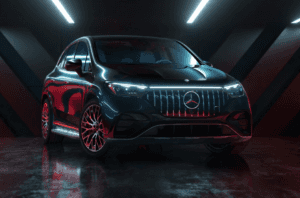 The 2023 Mercedes-Benz AMG EQE SUV epitomizes the seamless integration of cutting-edge technology, dynamic aesthetics, and environmentally sensitive engineering. It's crafted not just as an electric vehicle but also as an emblem of AMG's iconic lineage, ensuring that each ride is charged with power, precision, and innovation.
Every curve and feature is meticulously designed to strike a balance between adventurous spirit and ecological mindfulness. The SUV's power and control are distinctly AMG®, engineered to awaken the driver's soul and competitive spirit. In every aspect, the AMG® EQE SUV manifests a synergy of performance and sustainability, making every journey an exploration of the future of motoring.
Performance & Charging
Equipped with dual AMG® electric motors, this SUV is the epitome of power, offering 617 hp and 701 lb-ft of torque to all four wheels. The RACE START feature elevates the driving experience, enabling a rush from 0 to 60 in just 3.4 seconds, thanks to a 677-hp, 738-lb-ft burst of boost.
Charging the AMG® EQE SUV is as convenient as its performance is dynamic. The vehicle boasts high-density battery technology combined with AMG®-specific software, culminating in 90.6 kWh of energy content.
With access to over 60,000 charge points for easy recharging and two years of 30-minute sessions at all Electrify America DC fast chargers included, the SUV ensures you're always powered up and ready to go.
Driving dynamics are enhanced by the AMG® Performance 4MATIC®+ system, which adapts 10,000 times per minute based on the selected drive mode. The AMG® RIDE CONTROL+ air suspension and intelligent control that steers the rear wheels up to 9° ensures agility, stability, and maneuverability in every drive.
Design
The 2023 Mercedes-Benz AMG® EQE SUV is an artful blend of ultramodern aesthetics rooted in classic AMG® elegance. Its cabin is a sanctum of luxury, where cutting-edge technology meets impeccable craftsmanship.
Each element, from the artistically sculpted exterior reminiscent of an athlete's toned physique to the meticulous interior detailing, is designed to both soothe and stimulate the senses.
The SUV's exterior is a visual spectacle characterized by athletic contours, vertical bars in its front panel, and functional aero elements that accentuate its performance legacy. The available AMG® Night Package adds a bold contrast with striking black elements.
AMG® wheels are substantial in size and aerodynamically optimized, blending form and function.
The interior is an ode to the symbiotic relationship between driver and vehicle. The AMG® Performance steering wheel, available in Nappa leather or microfiber with leather or carbon-fiber accents, integrates capacitive switches and controls for drive settings.
Technology
The AMG® EQE SUV is equipped with reconfigurable digital instruments and a Zero Layer touchscreen menu tech, ensuring drivers are always informed and in control. The standard Hyperscreen, stretching across the cabin, and the available full-color Head-Up Display elevate the interactive experience.
The Mercedes-Benz User Experience (MBUX) merges artificial intelligence with real ingenuity, delivering unprecedented personalization. The system adapts to the driver's habits.
AMG® SOUND EXPERIENCE and DIGITAL LIGHT headlamps are testimonies to the SUV's technological achievements. With adaptive soundscapes tuned to driving modes and headlamps that adjust to traffic and curves, the AMG® EQE SUV isn't just driven; it's experienced.
Safety
The AMG® EQE SUV is fortified with an arsenal of safety features. Standard features include a surround-view camera, blind-spot monitoring, front and rear cross-traffic alert, lane-keep assist, active brake assist, Parktronic with active park assist, attention assist, and Pre-safe collision avoidance with Pre-safe sound for pedestrians.
The Exclusive sub-trim takes safety to another echelon with the addition of the Driver Assistance Package. This package enriches the safety suite with active steering assist, evasive steering assist, speed-limit assist, lane-change assist, Pre-safe impulse side, and exit warning.
2023 Mercedes-Benz AMG® EQE SUV For Sale at Ray Catena Mercedes-Benz of Edison
The future of automotive excellence is waiting for you at Ray Catena Mercedes-Benz of Edison. The 2023 Mercedes-Benz AMG® EQE SUV — a symphony of cutting-edge technology, unrivaled performance, and luxurious comfort — is available and ready to transform every journey into an experience of sheer exhilaration.
Every detail, every feature, and every innovation in the AMG® EQE SUV is designed with the driver in mind, ensuring an experience that transcends the ordinary. At Ray Catena Edison, our knowledgeable sales team is on standby, ready to introduce you to a world where luxury and technology converge, where power and elegance coexist, and where every drive is a journey into the future of automotive innovation.
Get in touch today.