Mercedes-Benz AMG® C 43 and C 63
Recent spy shots indicate that a change is coming to the Mercedes-Benz C-Class. Pictures are surfacing of the C 43 and C 63 Coupe, clearly showcasing the possibility if new AMG® models.
According to Shane McGlaun, author for the Slash Gear website describes the car in greater detail:
The portions of the cars that will be changing are the front and rear bumper areas. The changes don't appear to be that significant. Changes are expected to include a move to vertical slats on the grilles, common to other current Mercedes AMG® models.
The car also seems to have LED headlights of the sort seen on the E-Class. On the rear of the car, the C 43 has dual exhaust, but those parts are not thought to be the final production versions, rather fillers for testing. The C 63, on the other hand, has square exhaust pipes and they are thought to be the final production parts.
The interior of the AMG® version is expected to get a revised steering wheel and a new infotainment system, something common to all C-class cars. The center console will also have a touchpad controller for that infotainment system.
The powertrain is a mystery as of now. The C 43 is expected to get an inline six. That upscale C 63 is expected to pack a biturbo V8 engine. There is some hint that a C 63 R model might be landing as well.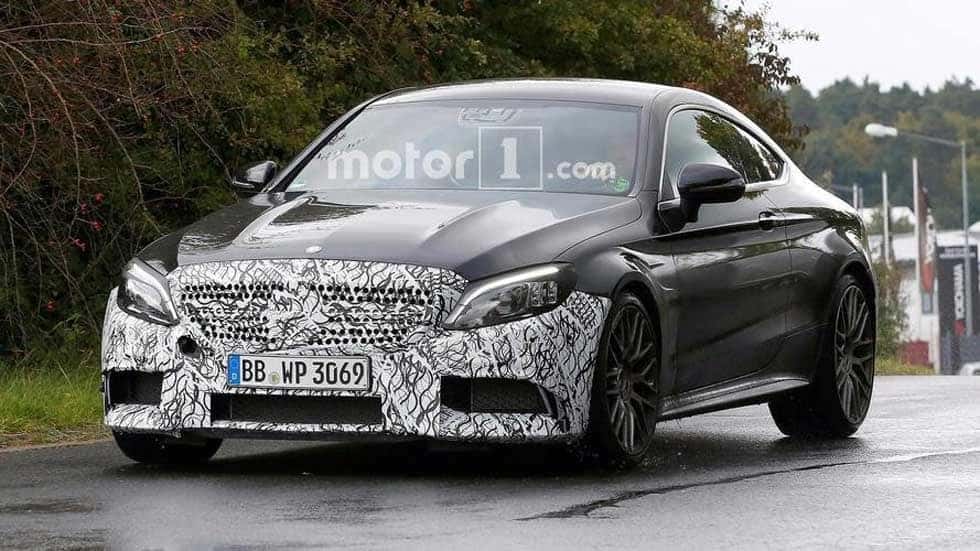 Disclaimer:
All information provided is by Shane McGlaun and SlashGear.com with pictures by Motor1.com. This article is not representative of Mercedes-Benz of Edison.
https://www.slashgear.com/spy-shots-show-revised-mercedes-benz-amg-c43-and-c63-rockin-camo-27505710/