2023 Mercedes Benz SL 43, 55, and 63 AMG®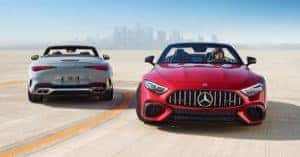 The Mercedes Benz SL is a series of vehicles that offer luxury, style, and overall high performance to Mercedes brand. The new SL vehicles Mercedes recently put out have been the SL 43, SL 55, and SL 63. These vehicles offer a blend of power, comfort, and advanced technology. The SL series typically comes with two seats and a retractable roof. The AMG models in the SL series are performance-oriented versions that are known for their increased power and sportier features.
The Difference Between the SL 43, SL 55, and SL 63:
SL 43 AMG®: The SL 43 AMG® is the entry level of the 3 vehicles offered by Mercedes Benz. The SL 43 features the smallest engine out of the 3 which is a turbo charged inline 4 cylinder. Reaching a max horsepower of 375 the SL 43 is nothing short but beauty and power combined. This vehicle is one of the first to feature a turbo with an electric motor on the turboshaft that can spin the compressor wheel to reduce overall lag and maintain a steady power while driving.
SL 55 AMG®: The SL 55 AMG® would feature a more powerful engine compared to the SL 43 but not as powerful as the SL 63. A twin-turbo 4.0-liter V-8 borrowed from the GT sports car. The SL 55 produces 469 horsepower with 516 lb-ft of torque.
SL 63 AMG®: The SL 63 AMG® is a high-performance model known for its potent V8 engine, producing substantial horsepower and torque. It's designed for enthusiasts who want maximum performance and sporty driving characteristics. The SL 63 AMG® being the best in performance out of the three vehicles sitting at a powerful 577 horsepower.
Infotainment Features:
1. MBUX Infotainment System: The SL AMG® typically comes with Mercedes-Benz's MBUX (Mercedes-Benz User Experience) infotainment system. MBUX is known for its user-friendly interface and advanced functionality. Key features of MBUX may include:
A large touchscreen display that serves as the central control hub for navigation, entertainment, and vehicle settings.
Voice control with natural language processing, allowing you to interact with the system using voice commands.
Smartphone integration with Apple CarPlay and Android Auto for seamless connectivity with your smartphone.
Bluetooth® connectivity for hands-free calling and audio streaming.
Access to a wide range of apps and services through the Mercedes-Benz App Store.
2. Navigation System: The SL AMG® typically includes a premium navigation system with features such as:
Real-time traffic information and route guidance.
3D maps and landmarks for enhanced navigation visuals.
Points of interest and restaurant recommendations.
Voice-guided turn-by-turn directions.
3. High-Quality Audio System: Mercedes-Benz vehicles, including the SL AMG®, often offer high-quality audio systems. Depending on the configuration and options, you might find features like:
Premium surround sound systems from renowned audio manufacturers, such as Burmester.
Multiple speakers strategically placed throughout the cabin for immersive audio experiences.
Advanced equalization and sound adjustment settings for personalized audio preferences.
4. Driver Assistance and Safety Features: While not part of the infotainment system, the SL AMG® typically comes with a range of driver assistance and safety features, which might include:
Adaptive cruise control with stop-and-go functionality.
Lane keeping assist and lane departure warning.
Blind-spot monitoring and rear cross-traffic alert.
Active parking assistance to help with parallel and perpendicular parking.
Surround-view camera system for improved visibility when maneuvering.
5. Interior Comfort and Luxury: The SL AMG® is known for its luxurious interior, which may include features like:
Premium leather upholstery with contrast stitching.
Heated and ventilated seats with multiple massage settings.
Ambient lighting with various color options to create a personalized cabin ambiance.
Advanced climate control system with dual-zone or multi-zone settings.
Pricing:
The pricing for the Mercedes-Benz SL 43, SL 55 AMG® and SL 63 AMG® can vary depending on factors such as optional features and regional variations. The starting prices for these high-performance models are typically in the six-figure range:
The SL 43 AMG® will start around $110,000
The SL 55 AMG® starts at around $141,000
The SL 63 AMG® is priced higher, often starting at around $183,000
Please note that the availability of specific features and options as well as pricing may vary depending on the model year and trim level of the SL AMG®. For the most accurate and up-to-date information on the features and options available for the latest SL AMG® models, it's best to consult the official Ray Catena Edison website or call us at 732-549-6600.