2023 Mercedes Benz S-Class Maybach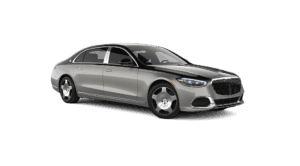 The Mercedes-Benz S-Class Maybach sedan is not just a luxury car; it's a symbol of Mercedes-Benz's commitment to pushing the boundaries of automotive engineering, technology, and luxury. It's a statement of the brand's values and capabilities and holds a central place in the automotive world as a benchmark for excellence. It is the pinnacle of luxury and contains the highest level of quality when it comes to interior and exterior design. The Mercedes-Benz Maybach is the definition of the Best or Nothing.
Features:
Luxury and Comfort: The S-Class Maybach is known for its opulent interior and luxurious features. It typically comes with premium materials, high-quality leather upholstery, wood trim, and advanced technology.
Extended Wheelbase: Maybach versions of the S-Class often have a longer wheelbase than the standard model, providing extra legroom and rear-seat comfort.
Rear-Seat Amenities: These vehicles often feature reclining rear seats, heated and ventilated massage seats, a panoramic sunroof, and an entertainment system.
Cutting-Edge Technology: The S-Class Maybach typically includes the latest in infotainment and driver assistance systems, such as adaptive cruise control, semi-autonomous driving features, and a high-end sound system.
Performance: While prioritizing luxury, Maybach versions may also offer powerful engine options for a smooth and comfortable ride.
Dual 12.3 & 12.8-inch Screens: A pair of high-resolution screens houses the infotainment system and digital instrument cluster. The MBUX (Mercedes-Benz User Experience) system offers voice control, navigation, smartphone integration, and more.
Premium Sound System: High-end sound systems, such as the Burmester are available for exceptional audio quality.
Ambient Lighting: Extensive ambient lighting options allow you to customize the interior lighting to suit your mood.
Advanced Driver Assistance: The Maybach S-Class typically comes with advanced driver-assistance features, including adaptive cruise control, lane-keeping assist, automated parking, and more.
Panoramic Sunroof: A large panoramic sunroof often provides a feeling of spaciousness and openness in the cabin.
Powerful Engine Options: The 2023 Maybach S-Class offers potent engine choices, including V8 and V12 powertrains, providing ample power and a smooth, refined ride.
Air Suspension: An adaptive air suspension system contributes to the car's excellent ride quality and comfort.
Exclusive Design Elements: Maybach models typically feature unique exterior styling elements, including distinctive grille designs and Maybach badging.
Executive Rear Seating Package: This optional package includes reclining rear seats with calf rests, an extendable footrest, and additional rear cabin amenities.
Refrigerated Rear Center Console: Some models may have a refrigerated compartment in the rear center console for keeping beverages chilled.
Cabin Fragrance System: An integrated cabin fragrance system allows you to select from various scents to enhance the interior ambiance.
Wireless Charging: Wireless charging pads are often available for smartphones and other devices.
Pricing:
The pricing for Mercedes-Benz S-Class Maybach sedans can vary widely based on the model year, trim level, and optional features.  Starting prices for these vehicles were in the six-figure range, and higher-end configurations could exceed $200,000 or more. You would be looking at a spending range as low as $194,450 to as high as $250,000.
Exclusivity/Availability:
Maybach models, including the S580 Maybach, are produced in limited quantities compared to standard Mercedes-Benz models. This limited production contributes to their exclusivity. Maybach offers extensive customization options, allowing buyers to tailor their S580 Maybach to their exact preferences. This includes selecting from a wide range of interior materials, colors, trims, and additional features which can take additional time to reach to customer if interested. Maybach ownership often includes premium services and privileges, such as concierge services, exclusive events, and access to Maybach lounges and facilities. Owning a Mercedes-Benz S580 Maybach is a symbol of prestige and affluence, making it highly sought after by those who appreciate the pinnacle of luxury in the automotive world.
Availability of specific S-Class Maybachs and configurations can vary by dealership and region. To get the most up-to-date information on the availability of Mercedes-Benz S-Class Maybach sedans visit Ray Catena Mercedes-Benz of Edison, contact us at 732-549-6600 to reach out sales department where we can further assist you, or visit our website Ray Catena Edison.