Mercedes-Benz Metris Business Line
Exclusively upfitted by TransitWorks, the Mercedes-Benz Business Line is basically a mobile office and executive shuttle.

The TransitWorks Business Line conversion adds mobile office functionality to the already stylish and spacious Metris. Luxury swivel seats installed on our exclusive floor track can quickly create a mobile conference room in a matter of minutes. With large van capabilities and operational cost efficiency, the Metris Business Line is the premier choice for executives and mobile personnel needing to maximize their time.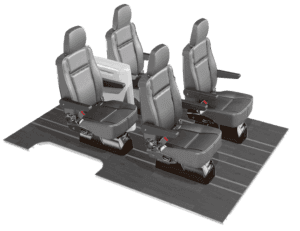 Mercedes Metris Business Line Features:
• 6 passenger seating with luxury leatherette seats
• Durable fold-out table and storage compartment
• Swivel seat bases allow for on-the-go meetings
• OEM Electronic sliding door package
• Slip-resistant Altro woodgrain floor covering
• 180-degree double swing-out rear doors
• Enhanced AC system with automatic climate control
• Rear view camera, blind spot assist and electronic adjustment
• Hands-free Bluetooth® mobile phone functionality
• Multifunction steering wheel and premium display package
• USB 2.0 & AUX audio jack with AAC/MP3/WAV/WMA playback
Visit out Sprinter showroom to discuss the countless configurations available for your Mercedes-Benz Sprinter or Metris Vans.
We can custom engineer our vans to meet your specific business needs. Ask us about other industry applications such as:
·Senior Living Transport Vehicles
·Hospitality & Resort Transportation
·All Purpose Shuttles, and more!