Mercedes-Benz E 300 Lease & Finance Specials
We appreciate your interest in our inventory, and apologize we do not have model details displaying on the website at this time. Please fill the form out below and our team will quickly respond, or, please call us at 732-549-6600 for more information.

When researching a new sedan to buy for you and your family, there is one brand that certainly stands out among the rest for its innovations, luxury, and style. That brand, of course, is Mercedes-Benz. Mercedes-Benz has dedicated itself to creating vehicles that people love and adore because they continuously provide strength, comfort, and sophistication in every model. As far as sedans are concerned, the Mercedes-Benz E 300 combines these qualities with brisk turbo power for an exceptional, future-driven driving experience.
Interior Features of the Mercedes-Benz E 300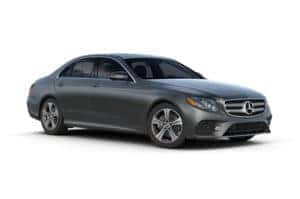 In the front cabin of the Mercedes-Benz E 300, luxury is the name of the game at every turn. Power front seats have easy-to-use controls on the door for optimal adjustment, and there is 4-way power lumbar support. The memory system for each front seat allows you to set and save your ideal driving position (up to three stored positions) as well as saved positions for the 4-way power steering column and side mirrors.
For even more comfort for the front seats, there are also pneumatically adjustable lumbar, side, and shoulder supports for customized luxury. If your back and shoulders are in need of rejuvenating, especially after a long road trip, you can't go wrong with any of the eight massage programs, including two "hot stone" massages and a "workout" program for back and leg strengthening. And for added safety through cornering maneuvers or in the event of an accident, increased lateral support is provided by active side bolsters.
Is your passenger always cold but you are always too warm? Figuring out the optimal cabin temperature can be difficult unless you are riding in the E 300. You can rest assured that no one will have an uncomfortable ride in your sedan. There are dual-zone automatic climate controls to separate the right and left temperatures, and you are able to control blower speed and airflow distribution. Finally, the system also includes a dust and pollen filter preventing particles as small as 0.0002-inch from ruining your comfort.
Mechanical Specifications of the Mercedes-Benz E 300
If you are looking for horsepower and torque from your sedan, the Mercedes-Benz E 300 gives you exactly what you need. Under the hood of the Mercedes-Benz E 300 is a 2.0L Inline-04 Turbo Engine that delivers 241-hp and 273 lb-ft of torque. The 9G-TRONIC 9-speed automatic transmission allows for quicker, almost imperceptible gear changes, and this delivery of power and versatile transmission enhances riding comfort and fuel-efficiency. You can also control the gear shifting without taking your hands off the steering wheel through the electronic selector and shift paddles. The DYNAMIC SELECT system allows you to try out the various shift modes available to you whenever the mood may strike.
Whether it's December or June, you can always count on the performance and handling of the E 300. The 4MATIC® all-wheel-drive engages and optimizes torque to every wheel, and it integrates the standard Electronic Stability Program (ESP®) to remain steady through corners and in slippery conditions. Additionally, the 4-wheel Electronic Traction System (4-ETS®) responds to the possibility of wheel slip and ensures torque is sent to the wheels with the best grip.
Mercedes-Benz E 300 Lease and Financing Options at Ray Catena Edison
At Ray Catena Edison, our experienced Mercedes-Benz salespeople are here to help you discover the best sedan for your driving needs. We are knowledgeable about each model, so you can rest assured that your concerns and questions will be addressed. This includes options for lease and financing. We have a variety of attractive options for you to consider, and we are happy to discuss each of them with you. Contact Ray Catena Edison today to learn more about the Mercedes-Benz E 300 and to schedule a test drive.