Elevate Your Mercedes-Benz Experience with the 2023 G 63 4×4²: A Distinguished Choice at Ray Catena Mercedes-Benz in Edison, NJ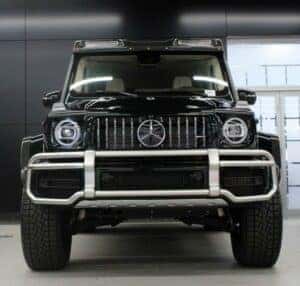 Introduction: Welcome to Ray Catena Mercedes-Benz in Edison, NJ, where luxury and sophistication meet the road. If you're a distinguished Mercedes-Benz driver in search of the perfect vehicle to elevate your driving experience, look no further than the 2023 Mercedes-Benz G 63 4×4². In this blog post, we'll explore why this exceptional vehicle is the epitome of luxury, performance, and style, and how you can make it yours today.
Design & Technology
Unparalleled Performance: The 2023 G 63 4×4² is a true powerhouse on wheels. Under the hood, you'll find a handcrafted 4.0-liter V8 biturbo engine, delivering a staggering 577 horsepower and 627 lb-ft of torque. This means you can go from 0 to 60 mph in just 4.5 seconds. Whether you're conquering city streets or off-road terrain, this Mercedes-Benz offers unmatched performance and capability.
Exceptional Off-Road Capability: For the adventurous spirit within you, the G 63 4×4² is designed to tackle any terrain with ease. With its advanced four-wheel drive system, three locking differentials, and adjustable suspension, this vehicle can handle mud, sand, rocks, and more. It's a Mercedes-Benz that's equally at home in the concrete jungle and the great outdoors.
Signature Design: The G 63 4×4² is an SUV that demands attention wherever it goes. Its bold, boxy design is an iconic symbol of luxury and power. The wide fender flares, massive wheels, and distinctive grille make a statement that is hard to ignore. Step inside, and you'll find a cabin that seamlessly blends opulence and functionality, with premium materials and the latest technology.
Advanced Technology: Speaking of technology, this Mercedes-Benz is equipped with an array of advanced features to enhance your driving experience. From the intuitive infotainment system to the driver assistance features, every aspect of the G 63 4×4² is designed to keep you connected, safe, and in control.
How to Purchase: Now that you're convinced that the 2023 G 63 4×4² is the vehicle for you, let's talk about how you can make it yours today at Ray Catena Mercedes-Benz in Edison, NJ:
a. Visit Our Showroom: Our dealership is conveniently located in Edison, NJ. Come and experience the G 63 4×4² in person, take it for a test drive, and see why it's the ultimate choice for Mercedes-Benz enthusiasts.
b. Explore Our Inventory Online: Can't make it to our showroom right away? No problem! You can browse our extensive inventory of Mercedes-Benz vehicles, including the G 63 4×4², on our website. We provide detailed information, high-quality images, and virtual tours to help you get a closer look at your dream car.
c. Contact Our Sales Team: If you have any questions or need assistance with the purchasing process, our friendly and knowledgeable sales team is here to help. You can reach out via phone or email, and we'll guide you through every step.
Conclusion: The 2023 Mercedes-Benz G 63 4×4² is not just a vehicle; it's an embodiment of luxury, performance, and prestige. At Ray Catena Mercedes-Benz in Edison, NJ, we are dedicated to helping you find your perfect Mercedes-Benz, and the G 63 4×4² is undoubtedly a top choice for the distinguished driver. Visit us today, explore our inventory, and let us make your Mercedes-Benz dreams a reality. Elevate your driving experience with the G 63 4×4² – the pinnacle of Mercedes-Benz excellence.