What is Mercedes-Benz Performance Tuning?

---
Mercedes-Benz performance tuning is another term for elevating the performance capabilities of a new or used Mercedes-Benz or Mercedes-Benz AMG®, as well as its appearance. This is usually done with Mercedes-Benz performance parts that are specially designed for your vehicle's year and trim level. Wondering about your performance tuning options? Read on to learn more about the parts available to you at Mercedes-Benz of Edison — your trusted brand experts near Staten Island.
Options for Mercedes-Benz Performance Upgrades
Two of the most common upgrades are ECU remapping and performance chips. Having your Electronic Control remapped involves configuring the electronic parameters that control the engine's fuel and air intake. This is done by programming the software with a new map or creating a personalized map for your vehicle. Performance chips also help customize driving performance. Coupled with ECU remapping, performance chips can enhance fuel economy, torque balance, and overall handling as you cruise through East Brunswick. Other options include:
Exhaust: Give your vehicle that quintessential sports car growl.
Suspension: Adjust your vehicle's suspension for sportier feedback, or give your Mercedes-Benz SUV greater off-roading prowess.
Cabin: Install a speedometer with increased speed range and give your interior a more streamlined look with a leather dashboard and more.
Exterior: Make passersby do a double-take on New Brunswick streets with an upgraded grille, fin antenna, spoilers, and classic Mercedes-Benz hood ornaments.
Lighting: There are plenty of street-legal headlight options, including halogen projector lights, LEDs, and black headlights.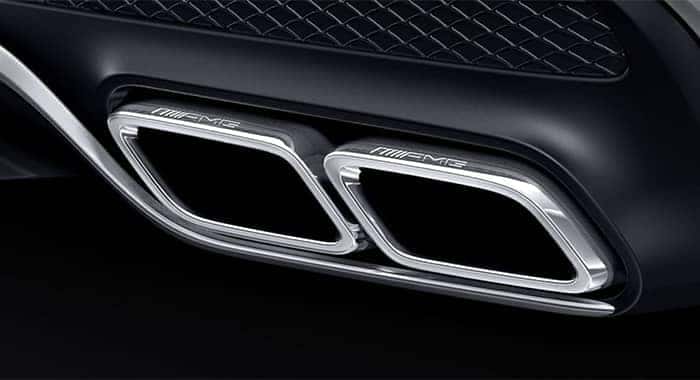 What Makes Mercedes-Benz AMG® Performance Unique?
When it comes to performance, Mercedes-Benz AMG® vehicles set the standard. These models are equipped with hand-built engines and specially made parts, giving them superior performance on East Brunswick roads and tracks. Their performance-oriented design and power make them standouts wherever they venture. The following vehicles are available with at least one AMG® trim:
Sedans, Wagons, & Cabriolets: C-Class, E-Class, and S-Class
Roadsters: SLC Roadster, SL Roadster, and Mercedes-AMG® GT
Coupes: CLA, C-Class, E-Class, CLS, and S-Class
Mercedes-Benz Performance Parts
Even if you don't own an AMG®, there's still a wide variety of genuine OEM parts and accessories available to boost performance, style, and more. A few options include the following:
Metal sport pedals and steering wheels with upscale finishes
Contoured sport seats with bolsters
Upgraded brake hardware and performance tires
Shop for Mercedes-Benz Parts at Mercedes-Benz of Edison!
Ready to repair or upgrade your Mercedes-Benz or AMG®? Contact us at Mercedes-Benz of Edison in Edison to learn more about our inventory. You can also schedule a service appointment if you'd like professional parts installation as well.
More From Mercedes-Benz of Edison
Introducing the all new 2020 AMG® CLA 45. This model is completely redesigned with the intensions of raising vehicle dynamics and exceeding all previous sport driving experience expectations. US dealers are expected to see this model later in this calendar year. The AMG® CLA 45 features many improvements upon the previous positively received Mercedes-Benz compact…

This beautiful 2019 AMG® E 63 is now for sale at Mercedes-Benz of Edison! The 2019 G-Class now has an updated touch screen interior, rounded exterior edges, and a gorgeous frost white exterior color! This car truly redefines what a luxury vehicle is supposed to look like! End the summer right with this 2019 AMG®…

Mercedes-Benz plans to add its newest addition to the SUV crossover family, the 2020 GLB. With its distinctive look and updated design, this vehicle will be the next big thing when it comes to all things SUV. The interior is completely updated the Mercedes-Benz way. The newly designed widescreen cockpit allows you the easiest access…